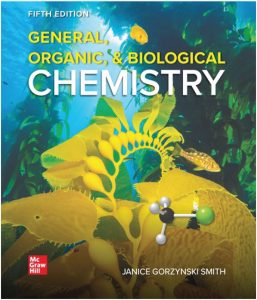 Free download General, Organic, Biological Chemistry (5th edition) written by Janice Gorzynski Smith in pdf.
My goal in writing this text was to relate the fundamental concepts of general, organic, and biological chemistry to the world around us, and in this way illustrate how chemistry explains many aspects of everyday life. A key feature is the use of molecular art to illustrate and explain common phenomena we encounter every day. Each topic is broken down into small chunks of information that are more manageable and easily learned.
Students are given enough detail to understand basic concepts, such as how soap cleans away dirt and why trans fats are undesirable in the diet, without being overwhelmed.
This textbook is written for students who have an interest in nursing, nutrition, environmental science, food science, and a wide variety of other health-related professions.
The content of this book is designed for an introductory chemistry course with no chemistry prerequisite, and is suitable for either a two-semester sequence or a one-semester course. I have found that by introducing one new concept at a time, keeping the basic themes in focus, and breaking down complex problems into small pieces, many students in these chemistry courses acquire a new appreciation of both the human body and the larger world around them.
Con

tents
Matter and Measurement
Ionic Compounds
Covalent Compounds
Chemical Reactions
Energy Changes, Reaction Rates, and Equilibrium
Gases, Liquids, and Solids
Solutions
Acids and Bases
Nuclear Chemistry
Introduction to Organic Molecules and Functional Groups
Alkanes
Unsaturated Hydrocarbons
Organic Compounds That Contain Oxygen, Halogen, or Sulfur
The Three-Dimensional Shape of Molecules
Aldehydes and Ketones
Carboxylic Acids, Esters, and Amides
Amines and Neurotransmitters
Lipids
Amino Acids, Proteins, and Enzymes
Nucleic Acids and Protein Synthesis
Metabolism and Energy Production
Carbohydrate, Lipid, and Protein Metabolism
Body Fluids
Free download General, Organic, Biological Chemistry (5th edition) written by Janice Gorzynski Smith in pdf from following download links.
Kindly follow these instructions to unlock the download link(s). Sometime download link(s) is/are not visible on mobile devices, so if you face this issue, kindly do visit this page via laptop/desktop computer.
Password for Download Links: chemistry.com.pk
File Size: 92.0 MB. Pages: 1866. Download Instructions. Kindly read the disclaimer.
You can also buy General, Organic, Biological Chemistry (5th edition) By Janice Gorzynski Smith from Amazon by Clicking the image below.

You may also like to free download:
Free download hundreds of chemistry books in pdf from HERE.
P.S: If the download link(s) is/are not working, kindly drop a comment below, so we'll update the download link for you.
Happy downloading!