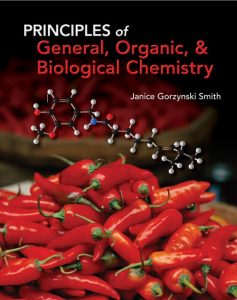 Free download Principles of General, Organic and Biological Chemistry written by Janice Gorzynski Smith in pdf.
As per the author, "Students who are planning a career within the allied health field are required to gain exposure to the many ways in which chemistry is intrinsic to and influences life. This textbook is written for students who have an interest in nursing, nutrition, environmental science, food science, and a wide variety of other health-related professions. The content of this book is designed for an introductory chemistry course with no chemistry prerequisite, and is suitable for either a one- or two-semester course. This text relates the principal concepts of general, organic, and biological chemistry to the world around us, and in this way illustrates how chemistry explains many aspects of daily life.
The learning style of today's students relies heavily on visual imagery. In this text, new concepts are introduced one at a time, keeping the basic themes in focus, and breaking down complex problems into manageable chunks of information. Relevant, interesting applications are provided for all basic chemical concepts. Diagrams and figures are annotated to help teach concepts and reinforce the major themes of chemistry, while molecular art illustrates and explains common everyday phenomena. Students learn step-by-step problem solving throughout the chapter within sample problems and How To boxes. Students are given enough detail to understand basic concepts, such as how oral contraceptives prevent pregnancy and how a catalytic converter removes pollutants from automobile exhaust.
Teaching chemistry for over 20 years at both a private liberal arts college and a large state university has given me a unique perspective with which to write this text. I have found that students arrive with vastly different levels of preparation and widely different expectations for their college experience. As an instructor and now an author I have tried to channel my love and knowledge of chemistry into a form that allows this spectrum of students to understand chemical science more clearly, and then see everyday phenomena in a new light. My interactions with thousands of students in my long teaching career have profoundly affected the way I teach and write about chemistry. My hope is that this text and its Learning System will help students better understand and appreciate the world of chemistry.
Con

tents
Matter and Measurement
Atoms and the Periodic Table
Ionic and Covalent Compounds
Energy and Matter
Gases
Solutions
Acids and Bases
Nuclear Chemistry
Introduction to Organic Molecules
Unsaturated Hydrocarbons
Organic Compounds That Contain Oxygen or Sulfur
Carboxylic Acids, Esters, Amines, and Amides
Carbohydrates
Lipids
Amino Acids, Proteins, and Enzymes
Nucleic Acids and Protein Synthesis
Energy and Metabolism
Free download Principles of General, Organic and Biological Chemistry by Janice Gorzynski Smith in pdf from following download links.
Follow these instructions to unlock the download links. Sometimes download link(s) is/are not visible on mobile devices, so if you face this issue, kindly do visit this page via laptop/desktop computer.
Password for Download Links: chemistry.com.pk
File Size: 124MB. Pages: 659. Download Instructions. Please read Disclaimer.
Don't forget to drop a comment below after downloading this book.
You may also like to free download
Free Download Hundreds of Best-Selling Chemistry Books from HERE.
P.S: If the download link(s) is/are not working, kindly drop a comment below, so we'll update the download link for you.
Happy downloading!