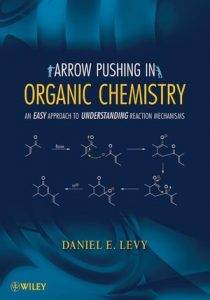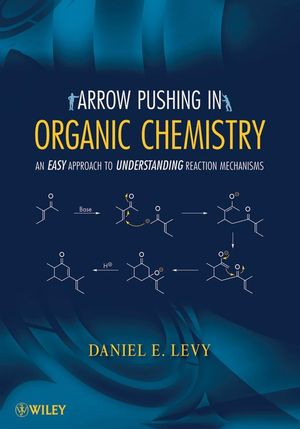 Free download Arrow Pushing in Organic Chemistry – An Easy Approach to Understanding Reaction Mechanisms written by Daniel E. Levy in pdf. published by Wiley and Sons, Inc. in 2008.
According to the author; When first presented with organic chemistry course material, one can easily be caught up in the size of the book, the encyclopedic presentation of reactions, and the self-questioning of how one can ever decipher the subject. These students frequently compile endless sets of flash cards listing specific chemical reactions and their associated names. Like many of my classmates, I began to approach the subject in this manner. However, this strategy did not work for me as I quickly realized that memorization of reactions did not provide any deductive or predictive insight into the progression of starting materials to products and by what mechanisms the transformations occurred.
In fact, the fundamental fault in the "memorization strategy" is that in order to be effective, the student must not only memorize all chemical reactions and associated reaction names, but also all associated reaction mechanisms and potential competing processes. It was not until I abandoned the memorization strategy that I began to do well in organic chemistry and develop a true appreciation for the subject and how the science benefits society.
The goal of this book is not to present a comprehensive treatment of organic chemistry.
Furthermore, this book is not intended to be a replacement for organic chemistry texts or to serve as a stand-alone presentation of the subject. This book is intended to supplement organic chemistry textbooks by presenting a simplified strategy to the study of the subject in the absence of extensive lists of organic reactions. Through application of the principles presented herein, it is my hope that this book, when used as intended, will aid the beginning student in approaching organic chemistry as I did with little memorization and much understanding.
Con

tents
Introduction
Acids
Bases and Nucleophiles
SN2 Substitution Reactions
SN1 Substitution Reactions
Elimination Reactions
Addition Reactions
Moving Forward
Free download Arrow Pushing in Organic Chemistry – An Easy Approach to Understanding Reaction Mechanisms written by Daniel E. Levy in pdf. from following download links.
Kindly follow the instructions to unlock the download link(s). Sometime download link(s) is/are not visible on mobile devices, so if you face this issue, kindly do visit this page via laptop/desktop computer.
[sociallocker id=1417]
[/sociallocker]
File Size: 3.41 MB. Pages: 320. Kindly read the disclaimer.
Drop a comment below if you successfully downloaded  this book. 🙂
P.S: If the download link(s) is/or not working, kindly drop a comment below so we could update the download link for you.
Happy downloading 🙂