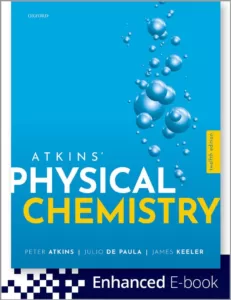 Free download Atkins' Physical Chemistry (12th edition) written by Peter Atkins, Julio de Paula, and James Keeler in pdf.
Our Physical Chemistry is continuously evolving in response to users' comments, our own imagination, and technical innovation. The text is mature, but it has been given a new vibrancy: it has become dynamic by the creation of an e-book version with the pedagogical features that you would expect.
The flexible, popular, and less daunting arrangement of the text into readily selectable and digestible Topics grouped together into conceptually related Focuses has been retained.
There have been various modifications of emphasis to match the evolving subject and to clarify arguments either in the light of readers' comments or as a result of discussion among ourselves.
The text covers a very wide area and we have sought to add another dimension: depth. Material that we judge too detailed for the text itself, but which provides this depth of treatment, or simply adds material of interest springing form the introductory material in the text, can now be found in enhanced A deeper look sections available via the e-book.
These sections are there for students and instructors who wish to extend their knowledge and see the details of more advanced calculations. The main text retains Examples (where we guide the reader through the process of answering a question) and Brief illustrations (which simply indicate the result of using an equation, giving a sense of how it and its units are used).
In this edition a few Exercises are provided at the end of each major section in a Topic along with, in the e-book, a selection of multiple-choice questions. These questions give the student the opportunity to check their understanding, and, in the case of the e-book, receive immediate feedback on their answers. Straightforward Exercises and more demanding Problems appear at the end of each Focus, as in previous editions.
Con

tents
A First Look
The properties of gases
The First Law
Physical transformations of pure substances
Simple mixtures
Chemical equilibrium
Quantum theory
Atomic structure and spectra
Molecular structure
Molecular symmetry
Molecular spectroscopy
Magnetic resonance
Statistical thermodynamics
Molecular interactions
Solids
Molecules in motion
Chemical kinetics
Reaction dynamics
Processes at solid surfaces
Free download Atkins' Physical Chemistry (12th edition) written by Peter Atkins, Julio de Paula, and James Keeler in pdf from following download links.
Kindly follow these instructions to unlock the download link(s). Sometime download link(s) is/are not visible on mobile devices, so if you face this issue, kindly do visit this page via laptop/desktop computer.
Password for Download Links: chemistry.com.pk
File Size: 46.8MB. Pages: 967. Download Instructions. Kindly read the disclaimer.
You may also like to free download:
Free Download Hundreds of Best-Selling Chemistry Books from HERE.
P.S: If the download link(s) is/are not working, kindly drop a comment below, so we'll update the download link for you.
Happy downloading!