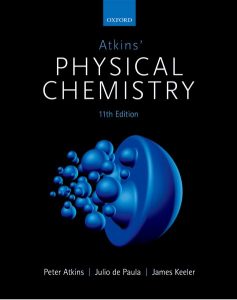 Free download Atkins' Physical Chemistry (11th edition) written by Peter Atkins, Julio de Paula and James Keeler in pdf published in 2018.
New

to this Edition
Significant re-working of the books structure improves digestibility and flexibility; material has been broken down into short 'Topics' which are organised into 'Focus' sections
Three questions at the beginning of each topic engage and focus the attention of the reader: 'Why do you need to know this material?', 'What is the key idea?', and 'What do you need to know already?
Expanded and redistributed support includes new 'chemist's toolkits' which provide students with succinct reminders of mathematical, physical, and chemical concepts and techniques at the point of use
An alternative approach to derivation of equations is used to demonstrate the absolute centrality of mathematics to physical chemistry by bringing the reader to the point where progress can be made only by doing some maths. In this new 'How is that done' approach the reader is brought to a question, then the maths is used to show how it can be answered and progress made
Checklists of key concepts at the end of each topic reinforce the main take-home messages from the material just covered
End of Topic and Focus problems have been rewritten with the goal of leading the reader to a solution, breaking them down into clear steps and encouraging problem-solving skills
Con

tents
FOCUS 1 The properties of gases
FOCUS 2 The First Law
FOCUS 3 The Second and Third Laws
FOCUS 4 Physical transformations of pure substances
FOCUS 5 Simple mixtures
FOCUS 6 Chemical equilibrium
FOCUS 7 Quantum theory
FOCUS 8 Atomic structure and spectra
FOCUS 9 Molecular structure
FOCUS 10 Molecular symmetry
FOCUS 11 Molecular spectroscopy
FOCUS 12 Magnetic resonance
FOCUS 13 Statistical thermodynamics
FOCUS 14 Molecular interactions
FOCUS 15 Solids
FOCUS 16 Molecules in motion
FOCUS 17 Chemical kinetics
FOCUS 18 Reaction dynamics
FOCUS 19 Processes at solid surfaces
Free download Atkins' Physical Chemistry (11th edition) by Peter Atkins, Julio de Paula and James Keeler in pdf from following download links.
Kindly follow the instructions to unlock the download link(s). Sometimes download link(s) is/are not visible on mobile devices, so if you face this issue, kindly do visit this page via laptop/desktop computer.
Password for Download Links: chemistry.com.pk
File Size: 74.5MB. Pages: 940. Download Instructions. Please read Disclaimer.
You can also buy Atkins' Physical Chemistry (11th Edition) By Peter Atkins and Julio de Paula from Amazon by clicking below image.

You may also like to free download:
Free Download Hundreds of Best-Selling Chemistry Books from HERE.
P.S: If the download link(s) is/are not working, kindly drop a comment below, so we'll update the download link for you.
Happy reading!