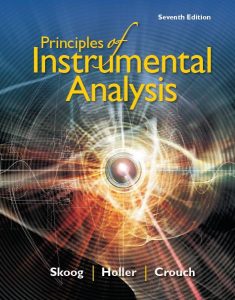 Free download Principles of Instrumental Analysis (7th edition) written by Douglas A. Skoog (Stanford University), F. James Holler (University of Kentucky) and Stanley R. Crouch (Michigan State University) in pdf. published in 2018.
As per authors changes in this new edition are: Because many instrumental techniques have been or are being used in NASA's exploration of Mars, we have attempted to present the principles and applications of these methods where appropriate.
We have included in this book new or updated Instrumental Analysis in Action features at the end of each section. One of the new case studies discusses the bisphenol A controversy and the role of chromatography in this environmental problem. The second covers the role of neutron activation analysis in the many investigations of the John F. Kennedy assassination. The case studies expand on the methods introduced in each section and show how they can be applied to specific analytical problems. These stimulating examples have been selected from the forensic, environmental, and biomedical areas.
All chapters have been revised and updated with recent references to the literature of analytical chemistry. Among the chapters that have been changed extensively are those on optical instrument components (Chapter 7), plasma atomic emission spectrometry (Chapter 10), atomic mass spectrometry (Chapter 11), X-ray spectrometry (Chapter 12), molecular mass spectrometry (Chapter 20), and supercritical fluid chromatography (Chapter 29). Throughout the book, new and updated methods and techniques are described, and photos of specific commercial instruments have been added where appropriate. Some of these modern topics include laser-based spectrometry, fluorescence quenching and lifetime measurements, tandem mass spectrometry, and biosensors.
Many new and revised charts, diagrams, and plots contain data, curves, and waveforms calculated from theory or obtained from the original literature to provide an accurate and realistic representation.
Con

tents

Section one: Measurement Basics

Section two: Atomic Spectroscopy

Section three: Molecular Spectroscopy

Section four: Electroanalytical Chemistry

Section five: Separation Methods

Section six: Miscellaneous Methods

Free download Principles of Instrumental Analysis (7th edition) by Skoog, Holler and Crouch in pdf from following download links.

Kindly follow the instructions to unlock the download link(s). Sometimes download link(s) is/are not visible on mobile devices, so if you face this issue, kindly do visit this page via laptop/desktop computer.

Password for Download Links: chemistry.com.pk

File Size: 41MB. Pages: 985. Download Instructions. Please read Disclaimer.

You can also buy Principles of Instrumental Analysis (7th Edition) By Skoog, Holler and Crouch from Amazon by Clicking the image below.

You may also like to download
Free Download Hundreds of Best-Selling Chemistry Books from HERE.
P.S: If the download link(s) is/are not working, kindly drop a comment below, so we'll update the download link for you.
Happy reading!