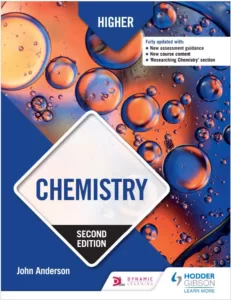 Free download SQA Higher Chemistry (2nd edition) authored by John Anderson in pdf.
This book follows on from the very successful first edition and has been updated, refreshed and re-organised using the 2018 SQA arrangements for Higher Chemistry. It follows a similar format to the first edition by offering full course coverage while attempting to stimulate the reader's appetite to learn new chemistry.
In addition to the core text, this book also offers the following features:
Questions: A variety of question types are used throughout the book to help the reader test their understanding. Full answers are included at the back of the book.
For Interest: The material in the For Interest sections of the book contains chemistry that is likely to be of interest to the reader, but is not examinable under the current SQA arrangements. This includes chemical phenomena, historical anecdotes, and applications of chemistry that make use of the chemistry presented in the chapter.
Checklist for Revision: A short summary of the key learning points is given at the end of each chapter. Students can use this to self-check their learning and to help them revise for assessments.
Additional features of the Higher Chemistry exam: This appears in the appendix of the book and offers advice on how to tackle two important features of the Higher Chemistry exam: Numeracy and Open-ended questions. Both concepts are explored in detail and supported with worked examples and study questions.
The key to success in Higher Chemistry is to equip yourself with as much chemical knowledge as possible and to ensure that you can do all of the standard questions that you are going to be asked in the exam.
To do this, you need to get into the habit of reviewing the relevant chapters at the same time as you are studying the concepts in class. To review means to read and test that you understand and can recall. Using the worked examples and study questions will help you with this as they will encourage you to retrieve what you have read. The more you retrieve, the easier knowledge will come to you. In other words, you need to review and attempt the questions in each chapter several times.
Con

tents

Section 1: Chemical Changes and Structure
Structure and bonding in the first 20 elements
Bonding in compounds
Oxidising and reducing agents
Section 2: Nature's Chemistry
Alcohols, carboxylic acids and esters
Fats, oils, soaps and detergents
Proteins
Oxidation of food
Fragrances
Skin care
Section 3: Chemistry in Society
Getting the most from reactants: designing an industrial process
Chemical calculations
Percentage yield and atom economy
Controlling the rate
Chemical energy
Equilibria
Volumetric analysis
Section 4: Researching Chemistry
Free download SQA Higher Chemistry (2nd edition) authored by John Anderson in pdf from following download links.
Kindly follow these instructions to unlock the download link(s). Sometime download link(s) is/are not visible on mobile devices, so if you face this issue, kindly do visit this page via laptop/desktop computer.
Password for Download Links: chemistry.com.pk
File Size: 12.4 MB. Pages: 265. Download Instructions. Kindly read the disclaimer.
You can also buy SQA Higher Chemistry (2nd edition) authored by John Anderson from Amazon by Clicking the image below.
You may also like to free download:
Free Download Hundreds of Best-Selling Chemistry Books from HERE.
P.S: If the download link(s) is/are not working, kindly drop a comment below, so we'll update the download link for you.
Happy downloading!