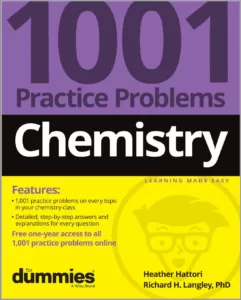 Free download Chemistry 1001 Practice Problems For Dummies authored by Heather Hattori and Richard H. Langley in pdf.
The 1,001 practice questions in this book cover topics that you might encounter in a high school chemistry course, an introductory college chemistry course, the first semester of a general chemistry course for science majors, or a general science test for entry into a pre-professional program.
The types of questions found here are similar to the ones you may see on homework assignments, quizzes, practice tests, or actual tests. You can start at Question 1 or Question 121 or skip around. You may find that your instructor (or textbook) covers topics in a different order from this book. That's okay; just go to the table of contents, find the topic you need, and start there.
Completing 1,001 chemistry practice questions is no small undertaking, but the time you spend practicing valuable science, math, and chemistry skills can improve your scores and help you "know what you know."
The 1,001 chemistry practice questions in this book are divided among 15 chapters, each one representing a few major subject areas in chemistry. Within each chapter, questions are grouped by topic and arranged from easy to hard, allowing you to answer beginner questions as well as multi-step and more difficult questions. Some questions are accompanied by an image or diagram that you need in order to answer the question correctly.
After you answer the questions for one chapter or subcategory — or even after you answer just one question — you can flip to the last chapter of the book and check your answers. There, you find thorough answer explanations for each problem, often covering processes, formulas, and definitions. In many cases, studying an answer explanation can help you better understand a difficult subject, so spend as much time as you need reviewing the explanations.
Con

tents
Units and Unit Conversions
Scientific Notation and Significant Figures
Matter and Energy
The Atom and Nuclear Chemistry
Ionic Bonding
Covalent Bonding
Molecular Geometry
Chemical Reactions
Molar Calculations
Thermochemistry
Gases
Solutions (The Chemistry Kind)
Acids and Bases
Graphing Basics
Free download Chemistry 1001 Practice Problems For Dummies authored by Heather Hattori and Richard H. Langley in pdf from following download links.
Kindly follow the instructions to unlock the download link(s). Sometime download link(s) is/are not visible on mobile devices, so if you face this issue, kindly do visit this page via laptop/desktop computer.
[sociallocker id=1417]
/sociallocker]
File Size: 11.5 MB. Pages: 451. Download Instructions. Please read Disclaimer.
You may also like to free download Chemistry for Dummies All in One authored by Christopher R. Hren, John T. Moore, and Peter J. Mikulecky in pdf.
Free download hundreds of well-known chemistry books in pdf from HERE.
P.S: If the download link(s) is/are not working, kindly drop a comment below, so we'll update the download link for you.
Happy downloading!