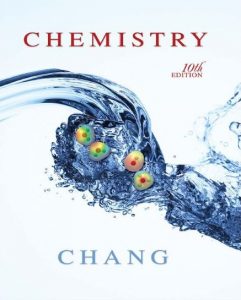 Free download Chemistry (1oth edition) by Raymond Chang in .pdf published by McGraw-Hill in 2010.
According to the author "from the first edition, my aim has been to write a general chemistry text that provides a firm foundation in chemical concepts and principles and to instill in students an appreciation of the vital part chemistry plays in our daily life.
It is the responsibility of the textbook author to assist both instructors and their students in their pursuit of this objective by presenting a broad range of topics in a logical manner. I have tried to strike a balance between theory and application and to illustrate basic principles with everyday examples whenever possible.
In this tenth edition, as in previous editions, my goal is to create a text that is clear in explaining abstract concepts, concise so that it does not overburden students with unnecessary extraneous information, yet comprehensive enough so that it prepares students to move on to the next level of learning. The encouraging feedback I have received from instructors and students has convinced me that this approach is effective.
Con

tents
Chemistry: The Study of Change
Mass Relationships in Chemical Reactions
Reactions in Aqueous Solutions
Gases
Thermochemistry
Quantum Theory and the Electronic Structure of Atoms
Periodic Relationships Among the Elements
Chemical Bonding I: Basic Concepts
Chemical Bonding II: Molecular Geometry and Hybridization of Atomic Orbitals
Intermolecular Forces and Liquids and Solids
Physical Properties of Solutions
Chemical Kinetics
Chemical Equilibrium
Acids and Bases
Chemistry in the Atmosphere
Entropy, Free Energy, and Equilibrium
Electrochemistry
Metallurgy and the Chemistry of Metals
Nonmetallic Elements and Their Compounds
Transition Metals Chemistry and Coordination Compounds
Nuclear Chemistry
Organic Chemistry
Synthetic and Natural Organic Polymers
Free download Chemistry (1oth edition) by Raymond Chang in .pdf from following download links.
Kindly follow these instructions to unlock the download link(s). Sometimes download link(s) is/are not visible on mobile devices, so if you face this issue, kindly do visit this page via laptop/desktop computer.
Password for Download Links: chemistry.com.pk
File Size: 86.7 MB. Pages: 1170. Download Instructions. Kindly read the disclaimer.
You may also like to download:
Free Download Hundreds of Best-Selling Chemistry Books from HERE.
P.S: If the download link(s) is/are not working, kindly drop a comment below, so we'll update the download link for you.
Happy downloading!