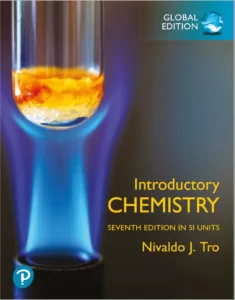 Free download Introductory Chemistry (7th global edition in SI units) written by Nivaldo J. Tro in pdf.
According to the author, this book is for you, and every text feature is meant to help you learn and succeed in your chemistry course. I wrote this book with two main goals for you in mind: to see chemistry as you never have before and to develop the problem-solving skills you need to succeed in chemistry.
I want you to experience chemistry in a new way. I have written each chapter to show you that chemistry is not just something that happens in a laboratory; chemistry surrounds you at every moment. Several outstanding artists have helped me to develop photographs and art that will help you visualize the molecular world. From the opening example to the closing chapter, you will see chemistry.
My hope is that when you finish this course, you will think differently about your world because you understand the molecular interactions that underlie everything around you.
Introductory Chemistry is designed for a one-semester, college-level, introductory or preparatory chemistry course. Students taking this course need to develop problem-solving skills—but they also must see why these skills are important to them and to their world. Introductory Chemistry extends chemistry from the laboratory to the student's world. It motivates students to learn chemistry by demonstrating the role it plays in their daily lives.
This is a visual book. Wherever possible, I use images to help communicate the subject. In developing chemical principles, for example, I worked with several artists to develop multipart images that show the connection between everyday processes visible to the eye and the molecular interactions responsible for those processes. This art has been further refined and improved in the seventh edition, making the visual impact sharper and more targeted to student learning.
Con

tents
The Chemical World
Measurement and Problem Solving
Matter and Energy
Atoms and Elements
Molecules and Compounds
Chemical Composition
Chemical Reactions
Quantities in Chemical Reactions
Electrons in Atoms and the Periodic Table
Chemical Bonding
Gases
Liquids, Solids, and Intermolecular Forces
Solutions
Acids and Bases
Chemical Equilibrium
Oxidation and Reduction
Radioactivity and Nuclear Chemistry
Biochemistry
Free download Introductory Chemistry (7th global edition in SI units) written by Nivaldo J. Tro in pdf from following download links.
Kindly follow these instructions to unlock the download link(s). Sometime download link(s) is/are not visible on mobile devices, so if you face this issue, kindly do visit this page via laptop/desktop computer.
Password for Download Links: chemistry.com.pk
File Size: 50.4MB. Pages: 833. Download Instructions. Kindly read the disclaimer.
You may also like to free download:
Free Download Hundreds of Best-Selling Chemistry Books from HERE.
P.S: If the download link(s) is/are not working, kindly drop a comment below, so we'll update the download link for you.
Happy downloading!