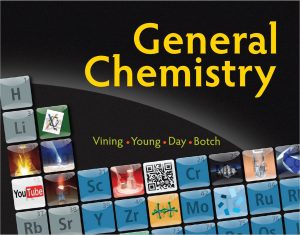 Free download General Chemistry authored by William J. Vining, Susan M. Young, Roberta Day, and Beatrice Botch in pdf.
In this first-year course you will learn about atoms and how they form molecules and other larger structures. You will use molecular structure and the ways atoms bond together to explain the chemical and physical properties of matter on the molecular and bulk scales, and in many cases, you will learn to predict these behaviors.
One of the most challenging and rewarding aspects of chemistry is that we describe and predict bulk, human scale properties through an understanding of particles that are so very tiny they cannot be seen even with the most powerful optical microscope. So, when we see things happen in the world, we translate and imagine what must be occurring to the molecules that we can't ever see.
Our integrated approach is designed to be one vehicle in your learning; it represents a new kind of learning environment built by making the best uses of traditional written explanations, with interactive activities to help you learn the central concepts of chemistry and how to use those concepts to solve a wide variety of useful and chemically important problems.
These readings and activities will represent your homework and as such you will find that your book is your homework, and your homework is your book. In this regard, the interactive reading assignments contain integrated active versions of important figures and tables, reading comprehension questions, and suites of problem-solving examples that give you step-by-step tutorial help, recorded "video solutions" to important problems, and practice problems with rich feedback that allow you to practice a problem type multiple times using different chemical examples.
Con

tents
Chemistry: Matter on the Atomic Scale
Elements and Compounds
Stoichiometry
Chemical Reactions and Solution Stoichiometry
Thermochemistry
Electromagnetic Radiation and the Electronic Structure of the Atom
Electron Configurations and the Properties of Atoms
Covalent Bonding and Molecular Structure
Theories of Chemical Bonding
Gases
Intermolecular Forces and the Liquid State
The Solid State
Chemical Mixtures: Solutions and Other Mixtures
Chemical Kinetics
Chemical Equilibrium
Acids and Bases
Advanced Acid–Base Equilibria
Precipitation and Lewis Acid–Base Equilibria
Thermodynamics: Entropy and Free Energy
Electrochemistry
Organic Chemistry
Applying Chemical Principles to the Main-Group Elements
The Transition Metals
Nuclear Chemistry
Free download General Chemistry authored by William J. Vining, Susan M. Young, Roberta Day, and Beatrice Botch in pdf from following download links.
Follow these instructions to unlock the download links. Sometimes download link(s) is/are not visible on mobile devices, so if you face this issue, kindly do visit this page via laptop/desktop computer.
Password for Download Links: chemistry.com.pk
File Size: 42.7 MB. Pages: 882. Download Instructions. Please read Disclaimer.
You may also like to free download
Free Download Hundreds of Best-Selling Chemistry Books from HERE.
P.S: If the download link(s) is/are not working, kindly drop a comment below, so we'll update the download link for you.
Happy downloading!