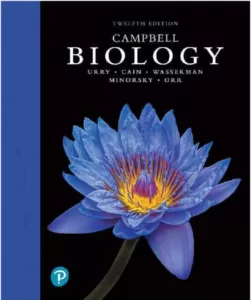 Free download Campbell Biology (12th edition) authored by Lisa A. Urry, Michael L. Cain, Steven A. Wasserman, Peter V. Minorsky and Rebecca B. Orr in pdf.
Campbell Biology's 12th edition is a true masterpiece that makes learning biology an enriching and enjoyable experience. With its user-friendly language, stunning visuals, and comprehensive coverage, this edition cements itself as an indispensable resource for both students and educators.
The book's visual presentation is particularly commendable. The intricate diagrams, vivid illustrations, and high-quality images enhance understanding by transforming complex concepts into digestible visual aids. This approach helps learners grasp even the most intricate details of biological processes with ease.
One of the book's standout features is its dedication to contemporary science. By integrating the latest breakthroughs and discoveries into the content, the 12th edition keeps readers abreast of the ever-evolving field of biology. This ensures that students gain a relevant and up-to-date perspective on the subject.
The authors' commitment to fostering critical thinking shines through in the thought-provoking questions and scenarios presented throughout the book. Rather than encouraging rote memorization, the text prompts readers to engage with concepts at a deeper level, cultivating a genuine understanding of the material.
The online resources accompanying the book provide an additional layer of interactivity. From interactive simulations to self-assessment tools, these resources empower students to actively explore and reinforce their knowledge, making the learning process more dynamic and effective.
Con

tents
Evolution, the Themes of Biology, and Scientific Inquiry
Unit 1: The Chemistry of Life
The Chemical Context of Life
Water and Life
Carbon and the Molecular Diversity of Life
The Structure and Function of Large Biological Molecules
Unit 2: The Cell
A Tour of the Cell
Membrane Structure and Function
An Introduction to Metabolism
Cellular Respiration and Fermentation
Photosynthesis
Cell Communication
The Cell Cycle
Unit 3: The Genetics
Meiosis and Sexual Life Cycles
Mendel and the Gene Idea
The Chromosomal Basis of Inheritance
The Molecular Basis of Inheritance
Gene Expression: From Gene to Protein
Regulation of Gene Expression
Viruses
DNA Tools and Biotechnology
Genomes and Their Evolution
Unit 4: Mechanics of Evolution
Descent with Modification: A Darwinian View of Life
The Evolution of Populations
The Origin of Species
The History of Life on Earth
Unit 5: The Evolutionary History of Biological Diversity
Phylogeny and the Tree of Life
Bacteria and Archaea
Protists
Plant Diversity I: How Plants Colonized Land
Plant Diversity II: The Evolution of Seed Plants
Fungi
An Overview of Animal Diversity
An Introduction to Invertebrates
The Origin and Evolution of Vertebrates
Unit 6: Plant Form and Function
Vascular Plant Structure, Growth, and Development
Resource Acquisition and Transport in Vascular Plants
Soil and Plant Nutrition
Angiosperm Reproduction and Biotechnology
Plant Responses to Internal and External Signals
Unit 7: Animal Form and Function
Basic Principles of Animal Form and Function
Animal Nutrition
Circulation and Gas Exchange
The Immune System
Osmoregulation and Excretion
Hormones and the Endocrine System
Animal Reproduction
Animal Development
Neurons, Synapses, and Signaling
Nervous Systems
Sensory and Motor Mechanisms
Animal Behavior
Unit 8: Ecology
An Introduction to Ecology and the Biosphere
Population Ecology
Community Ecology
Ecosystems and Restoration Ecology
Conservation Biology and Global Change
Free download Campbell Biology (12th edition) authored by Lisa A. Urry, Michael L. Cain, Steven A. Wasserman, Peter V. Minorsky and Rebecca B. Orr in pdf from following download links.
Kindly follow these instructions to unlock the download link(s). Sometime download link(s) is/are not visible on mobile devices, so if you face this issue, kindly do visit this page via laptop/desktop computer.
Password for Download Links: chemistry.com.pk
File Size: 174MB. Pages: 1493. Download Instructions. Kindly read the disclaimer.
You can also buy Campbell Biology (12th edition) authored by Lisa A. Urry, Michael L. Cain, Steven A. Wasserman, Peter V. Minorsky and Rebecca B. Orr from Amazon by Clicking the image below.

You may also like to free download:
Free Download Hundreds of Best-Selling Chemistry Books from HERE.
P.S: If the download link(s) is/are not working, kindly drop a comment below, so we'll update the download link for you.
Happy downloading!