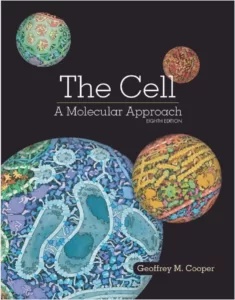 Free download The Cell A Molecular Approach (8th edition) written by Geoffrey M. Cooper in pdf.
The Cell – A Molecular Approach (8th edition) has been designed to be an approachable and teachable text that can be covered in a single semester while allowing students to master the material in the entire book. It is assumed that most students will have had introductory biology and general chemistry courses, but will not have had previous courses in organic chemistry, biochemistry, or molecular biology. Several aspects of the organization and features of the book will help students to approach and understand its subject matter.
The Cell is divided into four parts, each of which is self-contained, so that the order and emphasis of topics can be easily varied according to the needs of individual courses.
Part I provides background chapters on the evolution of cells, methods for studying cells, the chemistry of cells (including reviews of chemical bonds and thermodynamics), the fundamentals of molecular biology, and the fields of genomics and systems biology. For those students who have a strong background from either a comprehensive introductory biology course or a previous course in cell biology, various parts of these chapters can be skipped or used for review.
Part II focuses on the molecular biology of cells and contains chapters dealing with genome organization and sequences; DNA replication and repair; transcription and RNA processing; and the synthesis, processing, and regulation of proteins.
Part III contains chapters on cell structure and function, including chapters on the nucleus, cytoplasmic organelles, the cytoskeleton, the plasma membrane, and the extracellular matrix. This part of the book starts with coverage of the nucleus, which puts the molecular biology of Part II within the context of the eukaryotic cell, and then works outward through cytoplasmic organelles and the cytoskeleton to the plasma membrane and the exterior of the cell. These chapters are relatively self-contained, however, and could be used in a different order should that be more appropriate for
a particular course.
Finally, Part IV focuses on the exciting and fast-moving area of cell regulation, including coverage of topics such as cell signaling, the cell cycle, programmed cell death, and stem cells. This part of the book concludes with a chapter on cancer, which synthesizes the consequences of defects in basic cell regulatory mechanisms.
Con

tents

Part I Fundamentals and Foundations
Introduction to Cells and Cell Research
Molecules and Membranes
Bioenergetics and Metabolism
Genomics, Proteomics, and Systems Biology
Part II The Flow of Genetic Information
Genes and Genomes
Replication, Maintenance, and Rearrangements of Genomic DNA
RNA Synthesis and Processing
Transcriptional Regulation and Epigenetics
Protein Synthesis, Processing, and Regulation
Part III Cell Structure and Function
The Nucleus
Protein Sorting and Transport
Mitochondria, Chloroplasts, and Peroxisomes
The Cytoskeleton and Cell Movement
The Plasma Membrane
Part IV Cell Regulation
Cell Signaling
The Cell Cycle
Cell Renewal and Cell Death
Cancer
Free download The Cell A Molecular Approach (8th edition) written by Geoffrey M. Cooper in pdf from following download links.
Kindly follow these instructions to unlock the download link(s). Sometime download link(s) is/are not visible on mobile devices, so if you face this issue, kindly do visit this page via laptop/desktop computer.
Password for Download Links: chemistry.com.pk
File Size: 125 MB. Pages: 813. Download Instructions. Kindly read the disclaimer.
You can also buy The Cell A Molecular Approach (8th edition) written by Geoffrey M. Cooper from Amazon by Clicking the image below.
You may also like to free download:
Free Download Hundreds of Best-Selling Chemistry Books from HERE.
P.S: If the download link(s) is/are not working, kindly drop a comment below, so we'll update the download link for you.
Happy downloading!