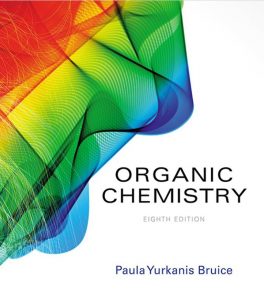 Free download Organic Chemistry (8th edition) written by Paula Yurkanis Bruice in pdf.
The chapters on organic chemistry are very well written. Unfortunately the biochemistry chapters toward the end are much more difficult to follow, and lack explanation at a lot of points. The blurbs about scientists were disappointing as well, since all they say is what universities they attended, probably the least important aspect of their personality and career. Overall if you're looking to learn organic chemistry, this book is a good choice. A page-turner, if you can believe it.
As per a reader's review, "It's a great textbook and I thought did a great job of explaining really difficult concepts. Had really helpful figures and diagrams and explained the mechanisms very thoroughly. There were times when the book didn't stay consistent but my prof pointed them out to us so it made it easier for us. Still a difficult class and requires a lot of time dedication but this book was definitely my savior."
CON

TENTS
Remembering General Chemistry: Electronic Structure and Bonding
An Introduction to Organic Compounds: Nomenclature, Physical Properties, and Structure
Isomers: The Arrangement of Atoms in Space
Alkenes: Structure, Nomenclature, and an Introduction to Reactivity • Thermodynamics and Kinetics
The Reactions of Alkenes • The Stereochemistry of Addition Reactions
The Reactions of Alkynes • An Introduction to Multistep Synthesis
Delocalized Electrons: Their Effect on Stability, pKa, and the Products of a Reaction • Aromaticity and Electronic Effects:An Introduction to the Reactions of Benzene
Substitution and Elimination Reactions of Alkyl Halides
Reactions of Alcohols, Ethers, Epoxides, Amines, and Sulfur-Containing Compounds
Organometallic Compounds
Radicals
NMR Spectroscopy
Reactions of Carboxylic Acids and Carboxylic Acid Derivatives
Reactions of Aldehydes and Ketones • More Reactions of Carboxylic Acid Derivatives
Reactions at the a-Carbon
Reactions of Benzene and Substituted Benzenes
More About Amines • Reactions of Heterocyclic Compounds
Organic Chemistry of Carbohydrates
Amino Acids, Peptides, and Proteins
Catalysis in Organic Reactions and in Enzymatic Reactions
The Organic Chemistry of the Coenzymes, Compounds Derived from Vitamins
The Organic Chemistry of the Metabolic Pathways
The Organic Chemistry of Lipids
The Chemistry of the Nucleic Acids
Synthetic Polymers
Pericyclic Reactions
Free download Organic Chemistry (8th edition) by Paula Yurkanis Bruice in pdf from following download links.
Follow these instructions to unlock the download links. Sometimes download link(s) is/are not visible on mobile devices, so if you face this issue, kindly do visit this page via laptop/desktop computer.
Password for Download Links: chemistry.com.pk
File Size: 70.2MB. Pages: 1340. Download Instructions. Please read Disclaimer.
You can also buy Organic Chemistry (8th Edition) By Paula Yurkanis Bruice from Amazon by Clicking the image below.

Don't forget to drop a comment below after downloading this book.
You may also like to free download:
Free download hundreds of best-selling chemistry books from HERE.
P.S: If the download link(s) is/are not working, kindly drop a comment below, so we'll update the download link for you.
Happy downloading!