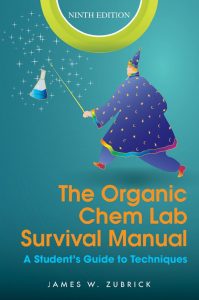 Free download The Organic Chem Lab Survival Manual: A Student's Guide to Techniques (9th edition) in pdf written by James W. Zubrick.
As per writer, "This Survival Manual again presents the basic techniques of the organic chemistry laboratory, with the usual emphasis on doing the work correctly the first time. And once again, I have relied on the comments of users and reviewers in guiding the changes and additions that have been made.
Safety in the laboratory, always a primary concern, now has to consider the addition of such technology as the iPad, the Nook, the Kindle, and even text messaging, where applicable. Microscale, also where applicable, has been reviewed and updated as well. And while currently resisting the deletion of double-beam spectrophotometers altogether, a discussion of the technique of Attenuated Total Refl ectance and associated practices has been added to the section on Infrared Spectroscopy (Chapter 32).
The discussion and presentation of the section on Nuclear Magnetic Resonance (Chapter 33) has been re-worked such that the different methods of sample preparation, and instrument operation for continuous-wave and FT-NMR have been made to contrast more sharply. A number of NMR spectra, with suggestions on presentation of the data, and basic interpretation have also been added.
Presentation of a more modern outline of the instrumentation of HPLC (Chapter 31) includes discussion of automatic injectors, yet there is a bit of a loss as this instrument, now highly computer-controlled, no longer has visible pumps, valves, and miles of tubing and fi ttings, just a series of fairly quiet, putty-colored boxes that produce excellent data with ease and a bit of boredom.
This kind of transition has put this edition of the Survival Manual into a bit of an "equilibrium mode," as now, at the urging of reviewers, some older techniques have been removed as newer information has been included. The actual making of TLC plates on microscope slides, which apparently needs not be done anymore, has been removed, and comments about handling and cutting pre-prepared plates have been updated and expanded (Chapter 27)."
Con

tents
Safety First, Last, and Always
Keeping a Notebook
Interpreting a Handbook
Jointware
Microscale Jointware
Other Interesting Equipment
Pipet Tips
Syringes, Needles, and Septa
Clean and Dry
Drying Agents
On Products
The Melting-Point Experiment
Recrystallization
Recrystallization: Microscale
Extraction and Washing
Extraction and Washing: Microscale
Sources of Heat
Clamps and Clamping
Distillation
Microscale Distillation
The Rotary Evaporator
Reflux And Addition
Reflux: Microscale
Sublimation
Microscale Boiling Point
Chromatography: Some Generalities
Thin-Layer Chromatography: Tlc
Wet-Column Chromatography
Refractometry
Gas Chromatography
Hp Liquid Chromatography
Infrared Spectroscopy (And A Bit Of Uv-Vis, Too)
On The Dual-Beam Infra-Red Instrument
Theory Of Distillation
Free download The Organic Chem Lab Survival Manual: A Student's Guide to Techniques (9th edition) by James W. Zubrick in pdf from following download links.
Follow these instructions to unlock the download links. Sometimes download link(s) is/are not visible on mobile devices, so if you face this issue, kindly do visit this page via laptop/desktop computer.
Password for Download Links: chemistry.com.pk
File Size: 5.33MB. Pages: 370. Download Instructions. Please read Disclaimer.
Don't forget to drop a comment below after downloading this book.
You may also like to free download
Free Download Hundreds of Best-Selling Chemistry Books from HERE.
P.S: If the download link(s) is/are not working, kindly drop a comment below, so we'll update the download link for you.
Happy downloading!