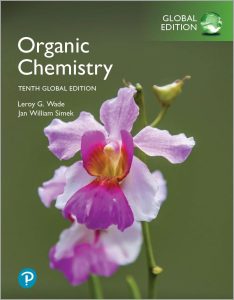 Free download Organic Chemistry (10th Global Edition) authored by Leroy G. Wade and Jan William Simek in pdf.
This tenth edition has several features to help students organize types of reactions and mechanisms for easier learning and better understanding, as well as for reference.
To help students organize functional group reactions, Starburst Summaries have been added that provide visual links between synthetically related functional groups. This feature is particularly useful when students are developing multistep syntheses, when the visual links help them to see the possible reactions moving forward from a reactant or synthetic intermediate.
The Guides to Organic Reactions will help students to organize mentally the many new reactions they are learning, and where those reactions fit within the overall scheme of the types of reactions we use in organic chemistry. Chapter-opening photographs, with captions that explain how the photograph relates to the chemistry presented in that chapter, have been added to all of the chapters.
All of the features of the earlier editions have been retained in this tenth edition. In many cases, those that were introduced in earlier editions have been expanded and refined. Many updated applications have been added, including those relating to medicine, green chemistry, biochemistry, and other contemporary areas of interest. Green chemistry is emphasized in many areas, most notably in the use of methods that avoid chromium reagents, which are known to be toxic and carcinogenic.
The older, more toxic reagents are mentioned, but they are no longer given as the first choice for a reagent. Mechanisms have been provided for the newest reactions, such as the Suzuki coupling, when they are relevant to the material and studied well enough to be confident they are correct.
Con

tents
Acids and Bases; Functional Groups
Structure and Stereochemistry of Alkanes
The Study of Chemical Reactions
Stereochemistry
Alkyl Halides; Nucleophilic Substitution
Structure and Synthesis of Alkenes; Elimination
Reactions of Alkenes
Alkynes
Structure and Synthesis of Alcohols
Reactions of Alcohols
Ethers, Epoxides, and Thioethers
Conjugated Systems, Orbital Symmetry, and Ultraviolet Spectroscopy
Aromatic Compounds
Reactions of Aromatic Compounds
Ketones and Aldehydes
Amines
Carboxylic Acids
Carboxylic Acid Derivatives
Condensations and Alpha Substitutions of Carbonyl Compounds
Carbohydrates and Nucleic Acids
Amino Acids, Peptides, and Proteins
Lipids
Synthetic Polymers
Free download Organic Chemistry (10th Global Edition) authored by Leroy G. Wade and Jan William Simek in pdf from following download links.
Follow these instructions to unlock the download links. Sometimes download link(s) is/are not visible on mobile devices, so if you face this issue, kindly do visit this page via laptop/desktop computer.
Password for Download Links: chemistry.com.pk
File Size: 90.2 MB. Pages: 1425. Download Instructions. Please read Disclaimer.
You may also like to free download
Free Download Hundreds of Best-Selling Chemistry Books from HERE.
P.S: If the download link(s) is/are not working, kindly drop a comment below, so we'll update the download link for you.
Happy downloading!