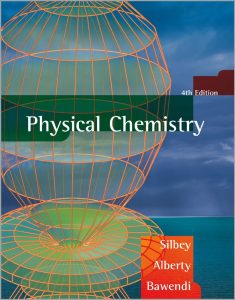 Free download Physical Chemistry (4th edition) authored by Robert J. Silbey, Robert A. Alberty and Moungi G. Bawendi in pdf.
The objective of this book is to make the concepts and methods of physical chemistry clear and interesting to students who have had a year of calculus and a year of physics. The underlying theory of chemical phenomena is complicated, and so it is a challenge to make the most important concepts and methods understandable to undergraduate students.
However, these basic ideas are accessible to students, and they will find them useful whether they are chemistry majors, biologists, engineers, or earth scientists. The basic theory of chemistry is presented from the viewpoint of academic physical chemists, but many applications of physical chemistry to practical problems are described.
One of the important objectives of a course in physical chemistry is to learn how to solve numerical problems. The problems in physical chemistry help emphasize features in the underlying theory, and they illustrate practical applications.
One of the significant changes in the fourth edition is increased emphasis on the thermodynamics and kinetics of biochemical reactions, including the denaturation of proteins and nucleic acids. In this edition there is more discussion of the uses of statistical mechanics, nuclear magnetic relaxation, nano science, and oscillating chemical reactions.
This edition has 32 new problems that can be solved with a hand-held calculator and 35 new problems that require a computer with a mathematical application. There are 34 new figures and eight new tables.
Con

tents

Part One: Thermodynamics
Zeroth Law of Thermodynamics and Equations of State
Second and Third Laws of Thermodynamics
Fundamental Equations of Thermodynamics
Chemical Equilibrium
Phase Equilibrium
Electrochemical Equilibrium
Thermodynamics of Biochemical Reactions
Part Two: Quantum Chemistry
Quantum Theory
Atomic Structure
Molecular Electronic Structure
Symmetry
Rotational and Vibrational Spectroscopy
Electronic Spectroscopy of Molecules
Statistical Mechanics
Part Three: Kinetics
Kinetic Theory of Gases
Experimental Kinetics and Gas Reactions
Chemical Dynamics and Photochemistry
Kinetics in the Liquid Phase
Part Four: Macroscopic And Microscopic Structures
Macromolecules
Electric and Magnetic Properties of Molecules
Solid-State Chemistry
Surface Dynamics
Free download Physical Chemistry (4th edition) authored by Robert J. Silbey, Robert A. Alberty and Moungi G. Bawendi in pdf.
Follow these instructions to unlock the download links. Sometimes download link(s) is/are not visible on mobile devices, so if you face this issue, kindly do visit this page via laptop/desktop computer.
Password for Download Links: chemistry.com.pk
File Size: 6.7 MB. Pages: 958. Download Instructions. Please read Disclaimer.
You may also like to free download
Free Download Hundreds of Best-Selling Chemistry Books from HERE.
P.S: If the download link(s) is/are not working, kindly drop a comment below, so we'll update the download link for you.
Happy downloading!