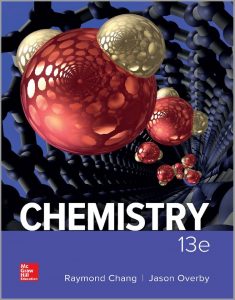 Free download Chemistry (13th Edition) written by Raymond Chang and Jason Overby in pdf published in 2019.
Chang's best-selling general chemistry textbook takes a traditional approach and is often considered a student and teacher favorite. The book features a straightforward, clear writing style and proven problem-solving strategies. It continues the tradition of providing a firm foundation in chemical concepts and principles while presenting a broad range of topics in a clear, concise manner.
The thirteenth edition follows the long tradition of sustaining a firm foundation in the concepts of chemical principles and instilling an appreciation of the important role chemistry plays in our daily lives. We believe that it is our responsibility to help both instructors and students in their pursuit of this goal by presenting a broad range of chemical topics in a logical format.
At all times, we strive to balance theory and application and to illustrate principles with applicable examples whenever possible. As in previous editions, our goal is to create a test that clearly and concisely explains abstract concepts yet comprehensive enough that students are prepared to make the move forward in the chemistry curriculum. Encouraging feedback from instructors and students alike reaffirm that this approach is effective.
A user's review, "I need this text book for school. I can't tell you much about the content and ease of reading, but it is what I needed. Just as an FYI, you will need a 3-4 inch binder for it. I squeezed it into a 3 inch Avery D ring binder, but really could have used a 4 inch binder. Another helpful hint is to purchase binder tabs to mark where each chapter is (the 31 binder tabs worked great – there were enough to mark the appendix, glossary and index too)."
Con

tents
Chemistry: The Study of Change
Mass Relationships in Chemical Reactions
Reactions in Aqueous Solutions
Gases
Thermochemistry
Quantum Theory and the Electronic Structure of Atoms
Periodic Relationships Among the Elements
Chemical Bonding I: Basic Concepts
Chemical Bonding II: Molecular Geometry and Hybridization of Atomic Orbitals
Intermolecular Forces and Liquids and Solids
Physical Properties of Solutions
Chemical Kinetics
Chemical Equilibrium
Acids and Bases
Acid-Base Equilibria and Solubility Equilibria
Entropy, Free Energy, and Equilibrium
Electrochemistry
Nuclear Chemistry
Chemistry in the Atmosphere
Metallurgy and the Chemistry of Metals
Nonmetallic Elements and Their Compounds
Transition Metals Chemistry and Coordination Compounds
Synthetic and Natural Organic Polymers
Free download Chemistry (13th Edition) written by Raymond Chang and Jason Overby in pdf published from following download links.
Kindly follow the instructions to unlock the download link(s). Sometime download link(s) is/are not visible on mobile devices, so if you face this issue, kindly do visit this page via laptop/desktop computer.
Password for Download Links: chemistry.com.pk
File Size: 179.4 MB. Pages: 1169. Download Instructions. Kindly read the disclaimer.
You can also buy Chemistry (13th Edition) written by Raymond Chang and Jason Overby from Amazon by Clicking the image below.

You may also like to free download:
Free Download Hundreds of Best-Selling Chemistry Books from HERE.
P.S: If the download link(s) is/are not working, kindly drop a comment below, so we'll update the download link for you.
Happy downloading!