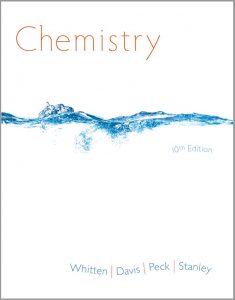 Free download Chemistry (10th edition) written by Kenneth W. Whitten, Raymond E. Davis, Larry Peck and George G. Stanley in pdf.
Chemistry and Chemistry with Qualitative Analysis Supplement, tenth edition, are intended for use in the introductory chemistry course taken by students of chemistry, biology, geology, physics, engineering, and related subjects. Although some background in high school science is helpful, no specific knowledge of topics in chemistry is presupposed. This book has self-contained presentations of the fundamentals of chemistry. The aim is to convey to students the dynamic and changing aspects of chemistry in the modern world.
This text provides a means by which students can develop an understanding of fundamental concepts of chemistry; the students' ability to solve problems is based on this understanding. Our goal in this revision is to provide students with the best possible tool for learning chemistry by incorporating and amplifying features that enhance their understanding of concepts and guide them through the more challenging aspects of learning chemistry.
This new edition of Chemistry continues to incorporate a strong molecular reasoning focus, amplified problem-solving exercises, a wide range of real-life examples and applications, and innovative technological resources. With this text's focus on molecular reasoning, your students will learn to think at the molecular level and make connections between molecular structure and macroscopic properties. The tenth edition has been revised throughout and now includes a reorganization of the descriptive chemistry chapters to improve the flow of topics, a new basic math skills appendix, an updated art program with new "talking labels" that fully explain what
is going on in the figure, and much more.
Con

tents
The Foundations of Chemistry
Chemical Formulas and Composition Stoichiometry
Chemical Equations and Reaction Stoichiometry
The Structure of Atoms
Chemical Periodicity
Some Types of Chemical Reactions
Molecular Structure and Covalent Bonding Theories
Molecular Orbitals in Chemical Bonding
Reactions in Aqueous Solutions I: Acids, Bases, and Salts
Reactions in Aqueous Solutions II: Calculations
Gases and the Kinetic–Molecular Theory
Liquids and Solids
Solutions
Chemical Thermodynamics
Chemical Kinetics
Chemical Equilibrium
Ionic Equilibria I: Acids and Bases
Ionic Equilibria II: Buffers and Titration Curves
Ionic Equilibria III: The Solubility Product Principle
Electrochemistry
Organic Chemistry I: Formulas, Names, and Properties
Organic Chemistry II: Shapes, Selected Reactions, and Biopolymers
Coordination Compounds
Metals I: Metallurgy
Metals II: Properties and Reactions
Some Nonmetals and Metalloids
Free download Chemistry (10th edition) by Kenneth W. Whitten, Raymond E. Davis, Larry Peck and George G. Stanley in pdf from following download links.
Kindly follow the instructions to unlock the download link(s). Sometime download link(s) is/are not visible on mobile devices, so if you face this issue, kindly do visit this page via laptop/desktop computer.
Password for Download Links: chemistry.com.pk
File Size: 96.2 MB. Pages: 1190. Download Instructions. Kindly read the disclaimer.
You may also like to free download:
Free Download Hundreds of Best-Selling Chemistry Books from HERE.
P.S: If the download link(s) is/are not working, kindly drop a comment below, so we'll update the download link for you.
Happy downloading!