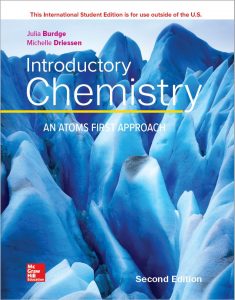 Free download Introductory Chemistry An Atoms First Approach (2nd edition) written by Julia Burdge and Michelle Driessen in pdf published in 2020.
Introductory Chemistry: An Atoms First Approach by Julia Burdge and Michelle Driessen has been developed and written using an atoms first approach specific to introductory chemistry. It is a carefully crafted text, designed and written with the introductory chemistry student in mind. The arrangement of topics facilitates the conceptual development of chemistry for the novice, rather than the historical development that has been used traditionally. Its language and style are student friendly and conversational; and the importance and wonder of chemistry in everyday life are emphasized at every opportunity. Continuing in the Burdge tradition, this text employs an outstanding art program, a consistent problem solving approach, interesting applications woven throughout the chapters, and a wide range of end-of-chapter problems.
For the second edition, real student data points and input, derived from our LearnSmart users, were used to guide the revision. LearnSmart Heat Maps provided a quick visual snapshot of usage of portions of the text and the relative difficulty students experienced in mastering the content. With these data, we targeted specific areas of the text for revision/augmentation:
∙ If the data indicated that the subject covered was more difficult than other parts of the book, as evidenced by a high proportion of students responding incorrectly to Learn- Smart probes, the text content was substantively revised or reorganized to be as clear and illustrative as possible.
∙ When the data showed that students had difficulty learning the material, the text was revised to provide a clearer presentation by rewriting the section or providing additional sample problems to strengthen student problem-solving skills.
This process was used to direct all of the revisions for this new edition.
Con

tents
Atoms and Elements
Electrons and the Periodic Table
Compounds and Chemical Bonds
How Chemists Use Numbers
The Mole and Chemical Formulas
Molecular Shape
Solids, Liquids, and Phase Changes
Gases
Physical Properties of Solutions
Chemical Reactions and Chemical Equations
Using Balanced Chemical Equations
Acids and Bases
Equilibrium
Biochemistry
Nuclear Chemistry
Electrochemistry
Free download Introductory Chemistry An Atoms First Approach (2nd edition) written by Julia Burdge and Michelle Driessen in pdf from following download links.
Follow these instructions to unlock the download links. Sometimes download link(s) is/are not visible on mobile devices, so if you face this issue, kindly do visit this page via laptop/desktop computer.
[sociallocker id=1417]
[/sociallocker]
File Size: 188MB. Pages: 622. Download Instructions. Please read Disclaimer.
Don't forget to drop a comment below after downloading this book.
You may also like to free download Inorganic Chemistry (4th Edition) written by Catherine E. Housecroft and Alan G. Sharpe in pdf.
P.S: If the download link(s) is/are not working, kindly drop a comment below, so we'll update the download link for you.
Happy downloading!