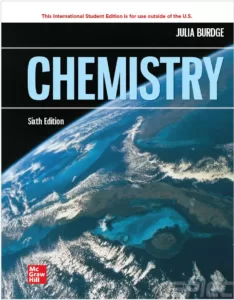 Free download CHEMISTRY (6th international student edition) authored by Julia Burdge in pdf.
According to the author, "Welcome to the exciting and dynamic world of Chemistry! My desire to create a general chemistry textbook grew out of my concern for the interests of students and faculty alike. Having taught general chemistry for many years, and having helped new teachers and future faculty develop the skills necessary to teach general chemistry, I believe I have developed a distinct perspective on the common problems and misunderstandings that students encounter while learning the fundamental concepts of chemistry—and that professors encounter while teaching them.
I believe that it is possible for a textbook to address many of these issues while conveying the wonder and possibilities that chemistry offers. With this in mind, I have tried to write a text that balances the necessary fundamental concepts with engaging real-life examples and applications, while utilizing a consistent, step-by-step problem-solving approach and an innovative art and media program.
Each chapter's end-of-chapter questions and problems begin with an Integrative
Problem, titled Applying What You've Learned. These integrative problems incorporate multiple concepts from the chapter, with each step of the problem providing a specific reference to the appropriate Sample Problem in case the student needs direction.
Newly located immediately before the end-of-chapter problems, Key Skills pages are modules that provide a review of specific problem-solving techniques from that particular chapter. These are techniques the author knows are vital to success in later chapters. The Key Skills pages are designed to be easy-to-find touchstones to hone specific skills from earlier chapters—in the context of later chapters. The answers to the Key Skills Problems can be found in the Answer Appendix in the back of the book."
New to the

Sixth Edition
Updated periodic-table numbering scheme.
New chapter openers, with emphasis on the chemistry associated with global climate change.
New End-of-Chapter Problems have been added in response to user comments. These include additional conceptual problems, and updates of information in topical questions.
Specific references to Key Skills pages in the "Before You Begin, Review These Skills" sections.
New figures to help students develop conceptual understanding.
Continued development of truly comprehensive and consistent problem-solving. Hundreds of worked examples (Sample Problems) help students get started learning how to approach and solve problems.
Con

tents
Atoms, Molecules, and Ions
Stoichiometry: Ratios of Combination
Reactions in Aqueous Solutions
Thermochemistry
Electron Configuration and the Periodic Table
Chemical Bonding I: Basic Concepts
Chemical Bonding II: Molecular Geometry and Bonding Theories
Gases
Intermolecular Forces and the Physical Properties of Liquids and Solids
Modern Materials
Physical Properties of Solutions
Chemical Kinetics
Acids and Bases
Acid-Base Equilibria and Solubility Equilibria
Entropy, Free Energy, and Equilibrium
Electrochemistry
Nuclear Chemistry
Environmental Chemistry
Coordination Chemistry
Online Only Chapter: Metallurgy and the Chemistry of Metals
Online Only Chapter: Nonmetallic Elements and Their Compounds
Free download Chemistry (6th international student edition) authored by Julia Burdge in pdf from following download links.
Kindly follow these instructions to unlock the download link(s). Sometime download link(s) is/are not visible on mobile devices, so if you face this issue, kindly do visit this page via laptop/desktop computer.
Password for Download Links: chemistry.com.pk
File Size: 58.5 MB. Pages: 1324. Download Instructions. Kindly read the disclaimer.
You can also buy Chemistry (6th international student edition) authored by Julia Burdge from Amazon by Clicking the image below.
You may also like to free download:
Free Download Hundreds of Best-Selling Chemistry Books from HERE.
P.S: If the download link(s) is/are not working, kindly drop a comment below, so we'll update the download link for you.
Happy downloading!