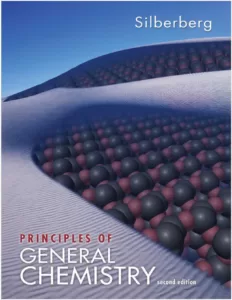 Free download Principles of General Chemistry (2nd edition) written by Martin S. Silberberg in pdf.
A new edition always brings a new opportunity to enhance the pedagogy. In the second edition, writing has been clarified wherever readers felt ideas could flow more smoothly. Updates have been made to several rapidly changing areas of chemistry, and a new pedagogic feature has been added. The greatest change, however, is the presence of many new worked sample problems and end-of chapter problems that use simple molecular scenes to teach quantitative concepts.
Both editions of the text have been written to allow rearrangement of the order of topics. For instance, redox balancing (by the half-reaction method in preparation for electrochemistry) is covered in Chapter 21, but it can easily be covered much earlier with other aspects of oxidation reduction reactions (Chapter 4) if desired.
Several chapters can be taught in a different order as well. Gases (Chapter 5), for example, can be covered in the book's chapter sequence to explore the mathematical modeling of physical behavior or, with no loss of continuity, just before liquids and solids (Chapter 12) to show the effects of intermolecular forces on the three states of matter.
In fact, based on user feedback, many instructors already move chapters and sections around, for example, covering descriptive chemistry (Chapter 14) and organic chemistry (Chapter 15) in a more traditional place at the end of the course. These or other changes in topic sequence can be made to suit any course.
In the second edition, small content changes have been made to many chapters, but a few sections, and even one whole chapter, have been revised considerably.
Con

tents
The Components of Matter
Stoichiometry of Formulas and Equations
Three Major Classes of Chemical Reactions
Gases and the Kinetic-Molecular Theory
Thermochemistry: Energy Flow and Chemical Change
Quantum Theory and Atomic Structure
Models of Chemical Bonding
The Shapes of Molecules
Theories of Covalent Bonding
Intermolecular Forces: Liquids, Solids, and Phase Changes
The Properties of Solutions
The Main-Group Elements: Applying Principles of Bonding and Structure
Kinetics: Rates and Mechanisms of Chemical Reactions
Equilibrium: The Extent of Chemical Reactions
Acid-Base Equilibria
Ionic Equilibria in Aqueous Systems
Thermodynamics: Entropy, Free Energy, and the Direction of Chemical Reactions
Electrochemistry: Chemical Change and Electrical Work
The Transition Elements and Their Coordination Compounds
Nuclear Reactions and Their Applications
Free download Principles of General Chemistry (2nd edition) written by Martin S. Silberberg in pdf from following download links.
Kindly follow these instructions to unlock the download link(s). Sometime download link(s) is/are not visible on mobile devices, so if you face this issue, kindly do visit this page via laptop/desktop computer.
Password for Download Links: chemistry.com.pk
File Size: 35.5 MB. Pages: 918. Download Instructions. Kindly read the disclaimer.
You can also buy Principles of General Chemistry (2nd edition) written by Martin S. Silberberg from Amazon by Clicking the image below.
You may also like to free download:
Free Download Hundreds of Best-Selling Chemistry Books from HERE.
P.S: If the download link(s) is/are not working, kindly drop a comment below, so we'll update the download link for you.
Happy downloading!