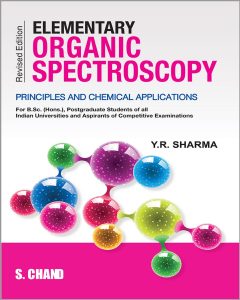 Free download Elementary Organic Spectroscopy Principles and Chemical Applications (5th edition) written by Y.R. Sharma in pdf.
The warm reception accorded to the fourth edition of Elementary Organic Spectroscopy and its subsequent reprints has provided me a great deal of encouragement to present the fourth edition of this book. The subject-matter presented in the book is sufficiently comprehensive and the knowledge gained through it will make easy to identify an unknown compound. The massive scope of the subject dictates that all possible visual assistance be available to the students. This has been done by presenting a large number of spectral diagrams which have been added in this edition. Their interpretation serve to reinforce as well as assist the students in learning the subject.
This attempt also helps the students to develop an intuitive feel in using spectroscopy to solve structural problems. The main features of the present edition are:
Multi-choice questions are added in each chapter. Some numerical problems are also included where required.
A chapter on 'Raman Spectroscopy' has been added to meet the demand of a large number of students and teachers. This technique forms a part of curriculum in most of the universities and is dealt here in reasonable detail.
Each chapter in the text is made more elaborate by induction of suitable material in the form of applications, numerical problems and explanation of new spectra. Important features for each technique, Short Question with Answers, Important problems (Solved) form special features of the fifth edition.
A number of problems have been given for the students to check their competence.
Extensive summarizes have been placed at the end of each Chapter in order to review each topic and highlight the main points.
Every attempt is made to retain the comprehensive character of the text so as to ensure that it continues to be one volume text for the students studying Organic Chemistry at the Graduate and Postgraduate levels.
A large number of new figures have been added in the text and all old figures have been redesigned.
In the ultra-violet spectroscopy, Polycyclic hydrocarbons and their spectra have been discussed and proton nuclear magnetic resonance spectra of carbocations have been given.
Con

tents
Introduction
Infra-Red Spectroscopy
Raman Spectroscopy
Nuclear Magnetic Resonance Spectroscopy
Numerical Problems on UV, IR and NMR
Free download Elementary Organic Spectroscopy Principles and Chemical Applications (5th edition) written by Y.R. Sharma in pdf from following download links.
Follow these instructions to unlock the download links. Sometimes download link(s) is/are not visible on mobile devices, so if you face this issue, kindly do visit this page via laptop/desktop computer.
Password for Download Links: chemistry.com.pk
File Size: 60.5 MB. Pages: 385. Download Instructions. Please read Disclaimer.
You may also like to free download
Free Download Hundreds of Best-Selling Chemistry Books from HERE.
P.S: If the download link(s) is/are not working, kindly drop a comment below, so we'll update the download link for you.
Happy downloading!