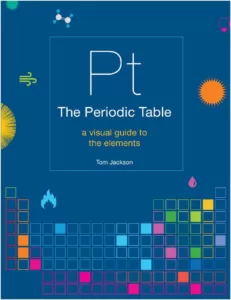 Free download The Periodic Table – A Visual Guide to the Elements written by Tom Jackson in pdf.
The periodic table shows the elements in order of atomic number (the number of protons their atoms have). The elements are also arranged in rows, known as periods, so that elements with similar chemistry are lined up into columns, or groups.
The periodic table is the ultimate infographic. It presents the fabric of the Universe (at least the bits of it we can see) as 118 units, and we can learn a lot about these units – the chemical elements – just by looking at where they sit among the rest.
Inside the pages of this book, you will find out how the particles do that, and see the great range of properties that elements have to offer. Despite following the same set of rules, the diversity of the elements is staggering. Some atoms have existed since the dawn of time – and will exist until the last moment of the Universe – while others fade away in a millisecond after being formed inside the crucible of a dying star (or inside an earthbound laboratory).
Not every element can offer up a superlative; most occupy a middle ground. However, that middle ground is the sum total of material in the Universe. It includes the metals that make our magnets, engines and electrical devices. It contains the semiconductors that have created the modern world through computing and look set to save the future with solar power. And it consists of the non-metal elements that fuel and maintain life on Earth, and, it is assumed, elsewhere, too. So, let's begin a visual journey into the stuff of nature.
Con

tents
The Big Picture
Inside Chemistry
Directory of Elements
Free download The Periodic Table – A Visual Guide to the Elements written by Tom Jackson in pdf from following download links.
Kindly follow these instructions to unlock the download link(s). Sometime download link(s) is/are not visible on mobile devices, so if you face this issue, kindly do visit this page via laptop/desktop computer.
Password for Download Links: chemistry.com.pk
File Size: 56.5 MB. Pages: 227. Download Instructions. Kindly read the disclaimer.
You can also buy The Periodic Table – A Visual Guide to the Elements from Amazon by Clicking the image below.

You may also like to free download:
Free Download Hundreds of Best-Selling Chemistry Books from HERE.
P.S: If the download link(s) is/are not working, kindly drop a comment below, so we'll update the download link for you.
Happy downloading!