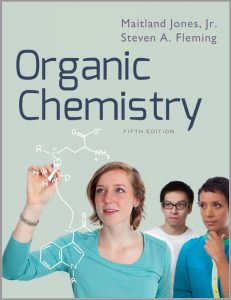 Free download Organic Chemistry (5th edition) written by Maitland Jones Jr. and Steven A. Fleming in pdf published in 2014.
Written by two expert teachers, the Fifth Edition of Organic Chemistry is written to support all kinds of learners—whether students read the book, or use it as a reference. New "Visualize, Understand, Draw" sections help students draw molecules well, visualize how they are formed, and understand why reactions occur. The Fifth Edition has been revised to be more accessible, with a focus on the basics and more opportunities for problem-solving practice, while the robust media package helps students visualize organic chemistry.
Every chapter begins with a Preview section in which the coming chapter is outlined. At the end of the Preview, we describe the Essential Skills and Details students will need for the chapter. At exam time, students can use these sections as guides for study and review.
Organic chemistry is a highly visual subject. Organic chemists think by constructing mental pictures of molecules and communicate with each other by drawing pictures. To help students develop those same skills, we have added Visualize, Understand, Draw sections in each chapter. These sections highlight an important skill or concept and break it down into these three general steps with the goal of training students to use these same steps when they are solving problems.
Con

tents
Atoms and Molecules; Orbitals and Bonding
Alkanes
Alkenes and Alkynes
Stereochemistry
Rings
Substituted Alkanes: Alkyl Halides, Alcohols, Amines, Ethers, Thiols, and Thioethers
Substitution Reactions: The SN2 and SN1 Reactions
Elimination Reactions: The E1 and E2 Reactions
Analytical Chemistry: Spectroscopy
Electrophilic Additions to Alkenes
More Additions to pi Bonds
Radical Reactions
Dienes and the Allyl System: 2p Orbitals in Conjugation
Aromaticity
Substitution Reactions of Aromatic Compounds
Carbonyl Chemistry 1: Addition Reactions
Carboxylic Acids
Derivatives of Carboxylic Acids: Acyl Compounds
Carbonyl Chemistry 2: Reactions at the alpha Position
Carbohydrates
Special Topic: Bioorganic Chemistry
Special Topic: Amino Acids and Polyamino Acids (Peptides and Proteins)
Special Topic: Reactions Controlled by Orbital Symmetry
Special Topic: Intramolecular Reactions and Neighboring Group Participation
Free download Organic Chemistry (5th edition) written by Maitland Jones Jr. and Steven A. Fleming in pdf from following download links.
Kindly follow the instructions to unlock the download link(s). Sometime download link(s) is/are not visible on mobile devices, so if you face this issue, kindly do visit this page via laptop/desktop computer.
Password for Download Links: chemistry.com.pk
File Size: 18.5 MB. Pages: 1343. Download Instructions. Kindly read the disclaimer.
You may also like to free download
Free Download Hundreds of Best-Selling Chemistry Books from HERE.
P.S: If the download link(s) is/are not working, kindly drop a comment below, so we'll update the download link for you.
Happy downloading!