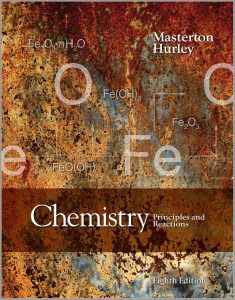 Free download Chemistry Principles and Reactions (8th edition) written by William L. Masterton and Cecile N. Hurley in pdf.
Discover all of the fundamental topics of general chemistry with this brief, reader-oriented book. CHEMISTRY: PRINCIPLES AND REACTIONS, 8e, provides a clear, concise presentation based on the authors' more than 50 years of combined teaching experience. The book includes graded and concept-driven examples as well as examples that focus on molecular reasoning and understanding, as well as "Chemistry: Beyond the Classroom" essays that demonstrate the relevance of the concepts and highlight some of the most up-to-date uses of chemistry. A strong, enhanced art program helps readers visualize chemical concepts.
New to This Edition:
MORE FLOWCHARTS: Owing to the enthusiastic response to them in the last edition, more flowcharts have been added and existing ones revised to help students visualize a pathway to follow for various topics.
NEW AND INNOVATIVE EXAMPLE FORMAT: Clear, consistent, and easy to follow, the new Example format includes analysis, strategy, and solution sections after each individual part of the Example. Each example ends with an End Point, which provides additional insight into the problem.
NEW "TALKING LABELS": This edition moves relevant text from captions to talking labels within the art for a clearer presentation of visual images. Contemporary photographs, modern molecular models, and new concept flowcharts help further clarify key concepts.
Con

tent
Matter and Measurements
Mass Relations in Chemistry; Stoichiometry
Reactions in Aqueous Solution
Gases
Electronic Structure and the Periodic Table
Covalent Bonding
Thermochemistry
Liquids and Solids
Solutions
Rate of Reaction
Gaseous Chemical Equilibrium
Acids and Bases
Equilibria in Acid-Base Solutions
Complex ion and Precipitation Equilibria
Spontaneity of Reaction
Electrochemistry
Nuclear Reactions
Complex Ions and Coordination Compounds
Chemistry of the Metals
Chemistry of the Nonmetals
Organic Polymers, Natural and Synthetic
Free download Chemistry Principles and Reactions (8th edition) written by William L. Masterton and Cecile N. Hurley in pdf from following download links.
Kindly follow the instructions to unlock the download link(s). Sometime download link(s) is/are not visible on mobile devices, so if you face this issue, kindly do visit this page via laptop/desktop computer.
Password for Download Links: chemistry.com.pk
File Size: 72.5 MB. Pages: 802. Download Instructions. Kindly read the disclaimer.
You may also like to free download
Free Download Hundreds of Best-Selling Chemistry Books from HERE.
P.S: If the download link(s) is/are not working, kindly drop a comment below, so we'll update the download link for you.
Happy downloading!