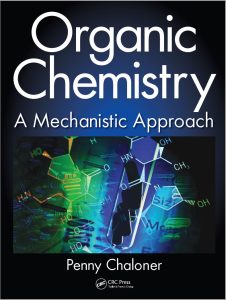 Free download Organic Chemistry A Mechanistic Approach authored by Penny Chaloner in pdf.
Organic chemistry teaching is bedeviled by the problem that many students in any sophomore class would really prefer to be elsewhere—they see themselves as biologists, chemical engineers, or premeds, not as aspirant chemists. So as instructors we can either turn somersaults to try to make the students see relevance to their particular discipline— not always easy at an elementary level—or we can try to convert these students into seeing the inherent beauty of the subject and divert them into the infinitely satisfying practice of chemistry.
Many students approach organic chemistry courses with trepidation. There is a lot of learning to do, isn't there, and the instructors set very difficult problems. No subject can be mastered without effort—this applies in all areas. You would not expect to become competent in speaking a language without learning the irregular verbs, in playing piano without practicing, or running a marathon without training.
The most important training you can do in organic chemistry is to practice solving problems—with which each chapter of this book is extensively provided. Generally, the first few are easy and for review—rather like your warm up before running or scales before Chopin.
Con

tents
Review of Atomic and Molecular Structure
Alkanes and Friends: Structure, Bonding, Properties, and Nomenclature
Alkenes, Alkynes, and Aromatic Compounds
Heteroatom-Containing Functional Groups
Purification and Identification of Organic Compounds 1
Stereochemistry
Introduction to Mechanism
Nucleophilic Substitution at Saturated Carbon
Elimination Reactions
Addition Reactions
Nucleophilic Aromatic Substitution and Synthesis of Aromatic Compounds
Addition to Carbon–Heteroatom Double Bonds
Substitution of Carbonyl Compounds: Carboxylic Acids and Their Derivatives
Lipids and Carbohydrates
Substitution α and β to Carbonyl Groups
Rearrangement Reactions
Synthesis 1: One-Group Disconnections
Synthesis 2: Two-Group Disconnections and Protecting Groups
Polymeric Materials
Amines, Alkaloids, Amino Acids, Peptides, and Nucleic Acids
Catalysis of Organic Reactions
Organic Chemistry in Industry
Organic Chemistry and the Environment
Organic Chemistry in Forensic Science
Free download Organic Chemistry A Mechanistic Approach authored by Penny Chaloner in pdf from following download links.
Follow these instructions to unlock the download links. Sometimes download link(s) is/are not visible on mobile devices, so if you face this issue, kindly do visit this page via laptop/desktop computer.
Password for Download Links: chemistry.com.pk
File Size: 26.3 MB. Pages: 1272. Download Instructions. Please read Disclaimer.
You may also like to free download
Free Download Hundreds of Best-Selling Chemistry Books from HERE.
P.S: If the download link(s) is/are not working, kindly drop a comment below, so we'll update the download link for you.
Happy downloading!