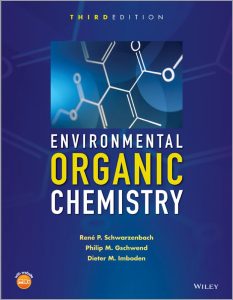 Free download Environmental Organic Chemistry (3rd edition) authored by Ren´e P. Schwarzenbach, Philip M. Gschwend and Dieter M. Imboden in pdf.
Who should read and use this book, or at least keep it on their bookshelf? From our experience with the previous editions, and maybe still with a bit of wishful thinking, we are inclined to answer this question with "Everybody who has to deal with organic chemicals in the environment." More specifically, we believe that the theoretical explanations and mathematical relationships discussed are very useful for chemistry professors and students who want both fundamental explanations and concrete applications that students can use to remember those chemical principles.
Likewise, we suggest that environmental and earth science professors as well as their students can utilize the chemical property information and quantitative descriptions of chemical cycling to think about how humans are playing an increasingly important role in changing the Earth system and how we may use specific chemicals as tracers of environmental processes.
Further, we believe that civil and environmental engineering professors and students will benefit from detailed understanding of the fundamental phenomena supporting existing mitigation and remedial designs, and they should gain insights that allow them to invent the engineering approaches of the future.
Finally, chemists and chemical engineers in industry should be able to use this book's information to help make "green chemistry" decisions, whereas governmental regulators and environmental consultants can use the book in order to better assess the chemical uses they must permit and the problem sites they must assess and manage.
Con

tents
General Topic and Overview
Part I: Background Knowledge
The Amazing World of Anthropogenic Organic Chemicals
Background Thermodynamics, Equilibrium Partitioning and Acidity Constants
Earth Systems and Compartments
Environmental Systems: Physical Processes and Mathematical Modeling
Part II: Equilibrium Partitioning in Well-Defined Systems
Partitioning Between Bulk Phases: General Aspects and Modeling Approaches
Vapor Pressure
Solubility and Activity Coefficient in Water; Air–Water Partition Constant
Organic Liquid–Air and Organic Liquid–Water Partitioning
Partitioning of Nonionic Organic Compounds Between Well-Defined Surfaces and Air or Water
Part III: Equilibrium Partitioning in Environmental Systems
General Introduction to Sorption Processes
Sorption from Water to Natural Organic Matter (NOM)
Sorption of Ionic Organic Compounds to Charged Surfaces
Aerosol–Air Partitioning: Dry and Wet Deposition of Organic Pollutants
Equilibrium Partitioning From Water and Air to Biota
Part IV: Mass Transfer Processes in Environmental Systems
Random Motion, Molecular and Turbulent Diffusivity
Transport at Boundaries
Air–Water Exchange
Interfaces Involving Solids
Part V: Transformation Processes
Background Knowledge on Transformation Reactions of Organic Pollutants
Hydrolysis And Reactions With Other Nucleophiles
Redox Reactions
Direct Photolysis in Aquatic Systems
Indirect Photolysis: Reactions with Photooxidants in Natural Waters and in the Atmosphere
Biotransformations
Assessing Transformation Processes Using Compound-Specific Isotope Analysis (CSIA)
Part VI: Putting Everything Together
Exposure Assessment of Organic Pollutants Using Simple Modeling Approaches
Free download Environmental Organic Chemistry (3rd edition) authored by Ren´e P. Schwarzenbach, Philip M. Gschwend and Dieter M. Imboden in pdf from following download links.
Follow these instructions to unlock the download links. Sometimes download link(s) is/are not visible on mobile devices, so if you face this issue, kindly do visit this page via laptop/desktop computer.
Password for Download Links: chemistry.com.pk
File Size: 42.6 MB. Pages: 1026. Download Instructions. Please read Disclaimer.
You may also like to free download
Free Download Hundreds of Best-Selling Chemistry Books from HERE.
P.S: If the download link(s) is/are not working, kindly drop a comment below, so we'll update the download link for you.
Happy downloading!