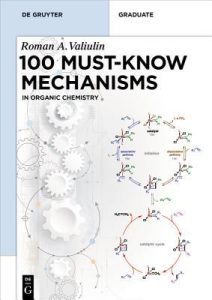 Free download 100 Must-Know Mechanisms in Organic Chemistry authored by Roman A. Valiulin in pdf.
This book summarizes 100 essential mechanisms in organic chemistry ranging from classical such as the Reformatsky Reaction from 1887 to recently elucidated mechanism such as the copper(I)-catalyzed alkyne-azide cycloaddition. The reactions are easy to grasp, well-illustrated and underpinned with explanations and additional information.
Con

tents
Electrophilic Addition Mechanism
Nucleophilic Substitution Mechanism
Aromatic Electrophilic Substitution Mechanism
Aromatic Nucleophilic Substitution Mechanism
Aromatic Radical Nucleophilic Substitution Mechanism
Elimination Mechanism
Acyloin Condensation
Alkyne Zipper Reaction
Arbuzov Reaction
Arndt‒Eistert Synthesis
Baeyer‒Villiger Oxidation
Barton Decarboxylation
Baylis‒Hillman Reaction
Beckmann Rearrangement
Benzoin Condensation
Benzyne Mechanism
Bergman Cyclization
Birch Reduction
Bischler‒Napieralski Cyclization
Brown Hydroboration
Buchwald‒Hartwig Cross Coupling
Cannizzaro Reaction
Chan‒Evans‒Lam Cross Coupling
Chichibabin Amination
Claisen Condensation
Claisen Rearrangement
Cope Elimination
Cope Rearrangement
Criegee & Malaprade Oxidation
CuAAC
Curtius Rearrangement
Darzens Condensation
Dess‒Martin Oxidation
Diazotization (Diazonium Salt)
Diels‒Alder Cycloaddition
Di‒π‒Methane Rearrangement
Favorskii Rearrangement
Fischer Indole Synthesis
Friedel‒Crafts Acylation & Alkylation
Gabriel Synthesis
Gewald Reaction
Glaser–Eglinton–Hay Coupling
Grignard Reaction
Grob Fragmentation
Haloform Reaction
Heck Cross Coupling
Hell–Volhard–Zelinsky Reaction
Hiyama Cross Coupling
Hofmann Elimination
Horner–Wadsworth–Emmons Olefination
Jones Oxidation
Kucherov Reaction
Kumada Cross Coupling
Ley–Griffith Oxidation
Liebeskind–Srogl Cross Coupling
Mannich Reaction
McMurry Coupling
Meerwein–Ponndorf–Verley Reduction
Michael Addition
Minisci Reaction
Mitsunobu Reaction
Miyaura Borylation
Mukaiyama RedOx Hydration
Nazarov Cyclization
Nef Reaction
Negishi Cross Coupling
Norrish Type I & II Reaction
Olefin (Alkene) Metathesis
Oppenauer Oxidation
Ozonolysis
Paal–Knorr Syntheses
Paternò–Büchi Reaction
Pauson–Khand Reaction
Peptide (Amide) Coupling
Pictet–Spengler Reaction
Pinacol–Pinacolone Rearrangement
Polonovski Reaction
Prilezhaev Epoxidation
Prins Reaction
Pummerer Rearrangement
Ramberg–Bäcklund Rearrangement
Reformatsky Reaction
Robinson Annulation
Shapiro Reaction
Sonogashira Cross Coupling
Staudinger Reaction
Steglich Esterification
Stille Cross Coupling
Suzuki Cross Coupling
Swern Oxidation
Ugi Reaction
Ullmann Aryl–Aryl Coupling
Upjohn Dihydroxylation
Vilsmeier–Haack Reaction
Wacker Oxidation
Wagner–Meerwein Rearrangement
Weinreb Ketone Synthesis
Wittig Reaction
Wohl–Ziegler Reaction
Wolff–Kishner Reduction
Free download 100 Must-Know Mechanisms in Organic Chemistry authored by Roman A. Valiulin in pdf from following download links.
Follow these instructions to unlock the download links. Sometimes download link(s) is/are not visible on mobile devices, so if you face this issue, kindly do visit this page via laptop/desktop computer.
Password for Download Links: chemistry.com.pk
File Size: 15.4 MB. Pages: 250. Download Instructions. Please read Disclaimer.
You may also like to free download:
Free download hundreds of best-selling chemistry books from HERE.
P.S: If the download link(s) is/are not working, kindly drop a comment below, so we'll update the download link for you.
Happy downloading!