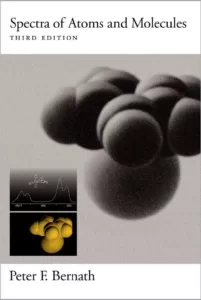 Free download Spectra of Atoms and Molecules (3rd edition) authored by Peter F. Bernath in pdf.
In this second edition I have mainly updated and revised the material presented in the first edition. For example, the 1998 revision of the physical constants has been used throughout, and the use of symbols and units conforms more closely to recommended practice. The level of treatment and spirit of the book have not changed.
I still aim to meet the needs of new students of spectroscopy regardless of their background. I have restrained myself and have not introduced spherical tensors, for example, because I believe that too many new concepts at one time are confusing.
A certain amount of new material has been added based on my recent experiences with what is misleadingly called quantitative spectroscopy." Spectroscopists are generally divided into two camps: those who interpret the spectral positions of lines and bands, and those who concern themselves more with line and band intensities. The latter camp is populated mainly by analytical chemists but includes astronomers and atmospheric scientists as well.
Nothing in spectroscopy causes as much confusion as line intensities. Some of the problems seem to originate from the degeneracies inherent in atomic and molecular systems. The usual intensity formulas are derived (as in Chapter 1) for transitions between nondegenerate quantum states, while measurements are generally made on transitions between degenerate energy levels.
The correct inclusion of this degeneracy turns out to be a nontrivial problem and is presented in Chapter 5 for atoms, but the expressions given there also apply to molecular systems. Even the definition of what constitutes a line can be a source of difficulties.
Con

tents
Introduction
Molecular Symmetry
Matrix Representation of Groups
Quantum Mechanics and Group Theory
Rotational Spectroscopy
Light Scattering and the Raman Effect
Electronic Spectroscopy of Di-atomics
Electronic Spectroscopy of Poly-atomics
Free download Spectra of Atoms and Molecules (3rd edition) authored by Peter F. Bernath in pdf from following download links.
Kindly follow the instructions to unlock the download link(s). Sometime download link(s) is/are not visible on mobile devices, so if you face this issue, kindly do visit this page via laptop/desktop computer.
Password for Download Links: chemistry.com.pk
File Size: 22.8 MB. Pages: 482. Download Instructions. Please read Disclaimer.
You may also like to free download
Free download hundreds of Best-Selling Chemistry Books from HERE.
P.S: If the download link(s) is/are not working, kindly drop a comment below, so we'll update the download link for you.
Happy downloading!