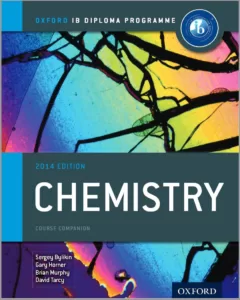 Free download IB Diploma Chemistry Coursebook authored by Sergey Bylikin, Gary Horner, Brian Murphy and David Tarcy in pdf.
This book is a companion for students of Chemistry in the International Baccalaureate Diploma Programme. Chemistry is one of the pivotal science subjects of the IB Diploma Programme. It is an experimental science that combines academic study with the acquisition of laboratory and investigational skills. Chemistry is often called the central science, as chemical principles underpin both the physical environment in which we live and all biological systems.
Apart from being a subject worthy of study in its own right, chemistry is also a prerequisite for many other disciplines such as medicine, biological and environmental sciences, materials and engineering. A study of chemistry invariably involves fostering of a wide range of additional generic, transferable skills, such as analytical skills, problem-solving, data-handling, IT and communication skills, critical-thinking, numeracy and scientific literacy skills.
During the two years of an IB Diploma Programme Chemistry Course, students are encouraged to develop knowledge of chemistry and an understanding of the nature of scientific inquiry. With its focus on understanding the nature of science (NOS), IB Chemistry learners will develop a level of scientific literacy that will better prepare them to act on issues of local and global concern, with a full understanding of the scientific perspective.
The structure of this book closely follows the chemistry programme in the Subject Guide.
Con

tents
Stoichiometric relationships
Periodicity
Chemical bonding and structure
Energetics/thermochemistry
Chemical kinetics
Equilibrium
Acids and bases
Redox processes
Measurement and data processing
Atomic structure (AHL)
Chemical bonding and structure (AHL)
Energetics/thermochemistry (AHL)
Chemical kinetics (AHL)
Equilibrium (AHL)
Acids and bases (AHL)
Redox processes (AHL)
Organic chemistry (AHL)
Measurement and analysis (AHL)
Materials
Biochemistry
Energy
Medicinal chemistry
Free download IB Diploma Chemistry Coursebook authored by Sergey Bylikin, Gary Horner, Brian Murphy and David Tarcy in pdf from following download links.
Kindly follow the instructions to unlock the download link(s). Sometime download link(s) is/are not visible on mobile devices, so if you face this issue, kindly do visit this page via laptop/desktop computer.
Password for Download Links: chemistry.com.pk
File Size: 50.4 MB. Pages: 813. Download Instructions. Please read Disclaimer.
You may also like to free download
Free download hundreds of Best-Selling Chemistry Books from HERE.
P.S: If the download link(s) is/are not working, kindly drop a comment below, so we'll update the download link for you.
Happy downloading!