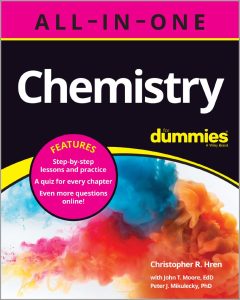 Free download Chemistry for Dummies All in One authored by Christopher R. Hren, John T. Moore, and Peter J. Mikulecky in pdf.
This book is a one-stop chemistry shop. Each chapter explains key concepts covered in any high school or introductory college chemistry class, along with example problems and opportunities for practice. You'll find the absolute basics that you need to succeed in a chemistry course, all the way up to some rather complicated material.
One thing that will stand out to you is all of the calculations throughout the book. Chemistry has a lot of math in it, and this book doesn't shy away from that. The beginning chapters of this book, though, are going to help you make sure you are comfortable working through the calculations you'll see throughout the rest of it, so make sure you don't skip over those if you think you need a little review
Con

tents

Unit 1: Getting Started with Chemistry
Looking at Numbers Scientifically
Using and Converting Units
The Basic Properties of Matter
Breaking Down Atoms into Their Subatomic Particles
Unit 2: The Periodic Table
Surveying the Periodic Table of the Elements
The Electron
Periodic Trends
Doing Chemistry with Atomic Nuclei
Unit 3: Making and Breaking Bonds
Building Bonds
The Shape of Molecules
Naming Compounds and Writing Formulas
Unit 4: Working with Reactions
Understanding the Many Uses of the Mole
Getting a Grip on Chemical Equations
Putting Stoichiometry to Work
Unit 5: Examining Changes in Energy
Understanding States of Matter in Terms of Energy
Warming Up to Thermochemistry
Obeying Gas Laws
Unit 6: Studying Solutions
Dissolving into Solutions
Playing Hot and Cold: Colligative Properties
Working with Acids and Bases
Achieving Neutrality with Titrations and Buffers
Free download Chemistry for Dummies All in One authored by Christopher R. Hren, John T. Moore, and Peter J. Mikulecky in pdf from following download links.
Follow these instructions to unlock the download links. Sometimes download link(s) is/are not visible on mobile devices, so if you face this issue, kindly do visit this page via laptop/desktop computer.
Password for Download Links: chemistry.com.pk
File Size: 16.5 MB. Pages: 515. Download Instructions. Please read Disclaimer.
You may also like to free download
Free Download Hundreds of Best-Selling Chemistry Books from HERE.
P.S: If the download link(s) is/are not working, kindly drop a comment below, so we'll update the download link for you.
Happy downloading!