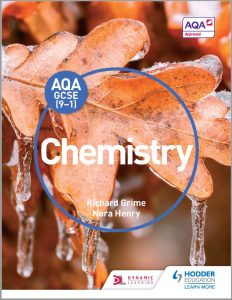 Free download AQA GCSE (9-1) Chemistry Student Book authored by Richard Grime and Nora Henry in pdf.
AQA approved. Expand and challenge your students' knowledge and understanding of Chemistry with this textbook that guides students through each topic, the 8 required practical activities and assessment requirements of the new 2016 AQA GCSE Chemistry specification.
Provides support for all 8 required practicals, along with extra tasks for broader learning
Tests understanding and consolidate learning with Test Yourself questions, Show you Can challenges, Chapter review questions and synoptic practice questions
Supports Foundation and Higher tier students, with Higher tier-only content clearly marked
Builds Literacy skills for the new specification with key words highlighted and practice extended answer writing and spelling/vocabulary tests
As per a user, I have really enjoyed and still enjoy using this book with my students. The questions are more than enough for practice. We actually struggle to complete all questions on each topic. As each topic develops there are several questions to test yourself and show that you have understood the topic.
Also at the end of the chapter, you have several chapter review questions then sample exam questions. I have already recommended this book to parents as I feel its worth every penny. So far I have found that this book is structured specifically in line with the new AQA GCSE science.
I see no difference in the structure and the structure of the sample assessments questions published on the AQA website. I have given this book 5 star as I have only found one error so far in the answers which I can live with. Also there are full answers to all questions in this book which you can download by following instructions on the inside of the front cover."
Con

tents
Bonding, structure and the properties of matter
Quantitative chemistry
Chemical changes
Energy changes
The rate and extent of chemical change
Chemical analysis
Chemistry of the atmosphere
Using the Earth's resources
Formulae and equations
Free download AQA GCSE (9-1) Chemistry Student Book authored by Richard Grime and Nora Henry in pdf from following download links.
Follow these instructions to unlock the download links. Sometimes download link(s) is/are not visible on mobile devices, so if you face this issue, kindly do visit this page via laptop/desktop computer.
Password for Download Links: chemistry.com.pk
File Size: 36.7 MB. Pages: 307. Download Instructions. Please read Disclaimer.
You may also like to free download
Free Download Hundreds of Best-Selling Chemistry Books from HERE.
P.S: If the download link(s) is/are not working, kindly drop a comment below, so we'll update the download link for you.
Happy downloading!