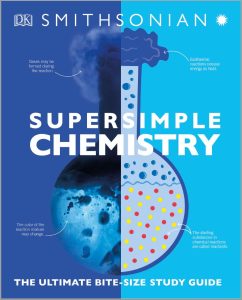 Free download SuperSimple Chemistry: The Ultimate Bitesize Study Guide by DK.
A fantastic aid for coursework, homework, and studying for tests, this comprehensive guide covers Next Generation Science Standards, for grades 6-10 and will have you ready for tests and exams in no time.
Each topic is fully illustrated to support the information, make the facts crystal clear, and bring the science to life. A large central image explains the idea visually and each topic is summed up on a single page, helping children to quickly get up to speed and really understand how chemistry works.
With clear, concise coverage of all the core topics, Super Simple Chemistry is the perfect accessible guide to chemistry for children, supporting classwork, and making studying for exams the easiest it's ever been.
As a high school science teacher, I would love to utilize this book in my classroom. Each page is a separate topic. Topics are organized together so the content builds upon itself. The book gives the most basic facts that a general chemistry would need to be familiar with. I do provide notes for students, and various activities through worksheets, videos, and labs, This book simplifies many of the topics and makes them more understandable for the students. I saw many ways of approaching a topic that I would like to introduce in my classroom.
I think this would be especially good for students who are special needs, because often they are given so much information they are overwhelmed by information. This book does not do that.
The subjects range from the basics of chemistry, like elements, bonding, and states of matter, to slightly more complex ones, like the math of chemistry (moles, anyone?), organic chemistry, and chemistry of the Earth. I'm surprised that this is targeted at middle school as well as high school.
Many concepts seem beyond what would be taught in a middle school class. Even though this book is said to be for grades 6-10, I think it would not only be an ideal companion to a high school class but also for a beginning college chemistry course (especially if you are new to chemistry classes).
Con

tent
The Scientific Method
Basic Chemistry
Elements
States of Matter
Nanoscience and Smart Materials
The Chemistry of Acids
Metals and Their Reactivity
Energy Changes
The Rate and Extent of Chemical Change
Chemical Analysis
Chemistry of the Earth
Using Resources
Free download SuperSimple Chemistry: The Ultimate Bitesize Study Guide by DK from following download links.
Follow these instructions to unlock the download links. Sometimes download link(s) is/are not visible on mobile devices, so if you face this issue, kindly do visit this page via laptop/desktop computer.
Password for Download Links: chemistry.com.pk
File Size: 39.9 MB. Pages: 288. Download Instructions. Please read Disclaimer.
You may also like to free download
Free Download Hundreds of Best-Selling Chemistry Books from HERE.
P.S: If the download link(s) is/are not working, kindly drop a comment below, so we'll update the download link for you.
Happy downloading!