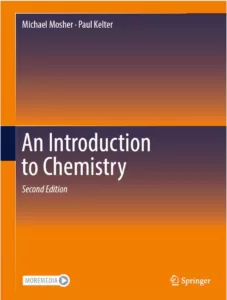 Free download An Introduction to Chemistry (2nd edition) authored by Michael Mosher and Paul Kelter in pdf.
According to the authors, "This textbook has two primary goals. The first is to help you appreciate the depth and breadth of chemistry. The second goal is to encourage you to make connections between concepts in chemistry and our world. "How do we know?" is one of the most vital questions, no matter what your field of study. In chemistry, we often say that asking good, focused questions is vital to "thinking like a chemist."
Knowing how to know and wanting to know are two essential traits of successful learning that not only are crucial to your study of chemistry but also to understanding a world beyond science. As you read this book (and we do believe that it can be read as a wonderful story of chemistry), look for the places where questions are raised. Ask yourself why we raise each question at the point where we do. What is the key idea? Why is this useful to know? What can I now figure out that I was not able to before? What connections can I make? Does my answer make sense?
To help you learn the material, we have included many thoroughly worked examples that demonstrate not only how to find the reasonable solution but also how to connect each problem to what you have learned and sometimes draw connections to what you will learn. This is the grand challenge of learning chemistry—making connections.
This is the higher-order understanding that is so important in your analysis of the issues of the day and the great social puzzles that often define our world. Unlike many subjects, chemistry is naturally cumulative. It requires you to apply previously learned information in increasingly complex ways."
Con

tents
The World of Chemistry
A Quest for Understanding
Chemical Calculations—Introducing Quantitative Chemistry
Solution Stoichiometry and Types of Reactions
Energy
Periodic Properties of the Elements.
Bonding Basics
Advanced Models of Bonding
The Behavior and Applications of Gases
Liquids, Solids, and Intermolecular Forces
The Chemistry of Water: Aqueous Solutions and Their Properties
Chemical Equilibrium
Acids and Bases
Applications of Aqueous Equilibria
Electrochemistry
Coordination Complexes
Nuclear Chemistry.
Carbon
The Chemistry of Life
Free download An Introduction to Chemistry (2nd edition) authored by Michael Mosher and Paul Kelter in pdf from following download links.
Kindly follow these instructions to unlock the download link(s). Sometime download link(s) is/are not visible on mobile devices, so if you face this issue, kindly do visit this page via laptop/desktop computer.
Password for Download Links: chemistry.com.pk
File Size: 41.9 MB. Pages: 1074. Download Instructions. Kindly read the disclaimer.
You can also buy An Introduction to Chemistry (2nd edition) authored by Michael Mosher and Paul Kelter from Amazon by Clicking the image below.

You may also like to free download:
Free Download Hundreds of Best-Selling Chemistry Books from HERE.
P.S: If the download link(s) is/are not working, kindly drop a comment below, so we'll update the download link for you.
Happy downloading!