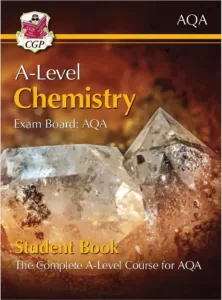 Free download A Level Chemistry Student Book – The Complete Course for AQA in pdf.
Like a heavy fraction of crude oil, A-Level Chemistry is difficult to crack. But don't worry — this CGP book will help you put in a high-octane performance all the way through the AQA course! It's packed with clear explanations, exam practice, advice on maths skills and practical investigations… everything you need, basically.
Learning Objects: These tell you exactly what you need to learn, or be able to do, for your exams. There's a specification reference at the bottom that links to the AQA specification.
Tips: These are here to help you understand the theory.
Exam Tips: There are tips throughout the book to help with all sorts of things to do with answering exam questions.
Required Practicals: As part of your course, you'll be expected to do a set of Required Practicals. You'll be tested on your knowledge of them in your exams too. Information about these practicals is marked with a Required Practical stamp.
Practical Skills: There are some key practical skills you'll not only need to use in your Required Practicals, but you could be tested on in the exams too. There's a Practical Skills section at the front of this book with loads of information on how to plan experiments and analyse data.
Exam-Style Questions: Practising exam-style questions is really important — you'll find some at the end of each section. They're the same style as the ones you'll get in the real exams — some will test your knowledge and understanding, and some will test that you can apply your knowledge. All the answers are in the back of the book, along with a mark scheme to show you how you get the marks.
Con

tents
Introduction
Atomic Structure
Amount of Substance
Bonding
Energetics
Kinetics
Periodicity
Group 2 and Group 7 Elements
Alkanes and Halogenoalkanes
Alkenes and Alcohols
Organic Analysis
Thermodynamics
Rate Equations and Kp
Electrode Potentials and Cells
Acids, Bases and pH
Period 3 Elements
Transition Metals
Isomerism and Carbonyl Compounds
Aromatic Compounds and Amines
Polymers
Amino Acids, Proteins and DNA
Further Synthesis and Analysis
Maths Skills
Exam Help
Free download A Level Chemistry Student Book – The Complete Course for AQA in pdf from following download links.
Kindly follow these instructions to unlock the download link(s). Sometime download link(s) is/are not visible on mobile devices, so if you face this issue, kindly do visit this page via laptop/desktop computer.
Password for Download Links: chemistry.com.pk
File Size: 12.7 MB. Pages: 624. Download Instructions. Kindly read the disclaimer.
You can also buy A Level Chemistry Student Book – The Complete Course for AQA from Amazon by Clicking the image below.

You may also like to free download:
Free Download Hundreds of Best-Selling Chemistry Books from HERE.
P.S: If the download link(s) is/are not working, kindly drop a comment below, so we'll update the download link for you.
Happy downloading!