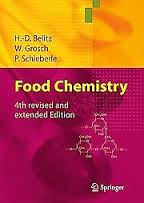 Food Chemistry (4th revised and extended edition) is written by Professor Dr. Hans-Dieter Belitz, Professor em. Dr. Werner Grosch and Professor Dr. Peter Schieberle and published by Springer in 2009.
The very rapid development of food chemistry and technology over the last two decades, which is due to a remarkable increase in the analytical and manufacturing possibilities, makes the complete lack of a comprehensive, teaching or reference text particularly noticeable. It is hoped that this textbook of food chemistry will help to fill this gap.
The fourth edition of the "Food Chemistry" textbook is a translation of the sixth German edition of this textbook. All chapters have been carefully checked and updated with respect to the latest developments, if required.
Table

of Contents
Water
Amino Acids, Peptides, Proteins
Lipids
Carbohydrates
Aroma Compounds
Vitamins
Minerals
Food Additives
Food Contamination
Milk and Dairy Products
Eggs
Meat
Fish,Whales, Crustaceans, Mollusks
Edible Fats and Oils
Cereals and Cereal Products
Legumes
Vegetables and Vegetable Products
Fruits and Fruit Products
Sugars, Sugar Alcohols and Honey
Alcoholic Beverages
Coffee, Tea, Cocoa
Spices, Salt and Vinegar
Drinking Water, Mineral and Table Water
Free download Food Chemistry By H.D. Belitz, W. Grosch and P. Schieberle in pdf from following download link.
File Size: 13.7 MB, Pages: 1114. Kindly read Disclaimer.
How

to Download?

After you click on Download Button, your download will start automatically. If it doesn't start then follow these instructions: After opening of download link press ctrl + S to save this book OR click on file menu a drop down menu will open then click on Download to save this book.