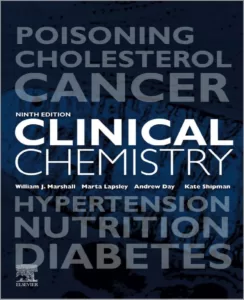 Free download Clinical Chemistry (9th edition) authored by William J. Marshall, Marta Lapsley, Andrew Day and Kate Shipman in pdf.
This book was originally written primarily for medical students. However, the utility of a succinct review of the topic has been recognized by many disciplines, both clinical and scientific, and at all stages of training.
With the help of comments received from readers around the world, we hope that we fulfil such varied requirements. Please do continue to provide us with your invaluable feedback so that we can further improve the book in future editions.
Each chapter includes a summary of the basic biochemistry and physiology upon which understanding clinical biochemistry depends. The nature, choice, use and limitations of laboratory investigations naturally comprise the bulk of each chapter, but clinical biochemistry is only one part of laboratory medicine, and laboratory tests comprise only one group among the many types of investigation available to support diagnosis and management.
Other investigations—for example imaging—are mentioned and overviews of management options are provided; however, we stress that this book is not, and is not intended to be, a textbook of metabolic medicine.
Con

tents
Biochemical investigations in clinical medicine
Water, sodium and potassium
Hydrogen ion homoeostasis and blood gases
The kidneys
The liver
The gastrointestinal tract
Clinical nutrition
The hypothalamus and the pituitary gland
The adrenal glands
The thyroid gland
The gonads
Disorders of carbohydrate metabolism
Calcium, phosphate and magnesium
Bones and joints
Plasma proteins and enzymes
Lipids, lipoproteins and cardiovascular disease
Muscles, nerves and psychiatric disorders
Inherited metabolic diseases
Metabolic aspects of malignant disease
Therapeutic drug monitoring and chemical aspects of toxicology
Clinical chemistry in children
Free download Clinical Chemistry (9th edition) authored by William J. Marshall, Marta Lapsley, Andrew Day and Kate Shipman in pdf from following download links.
Kindly follow the instructions to unlock the download link(s). Sometime download link(s) is/are not visible on mobile devices, so if you face this issue, kindly do visit this page via laptop/desktop computer.
[sociallocker id=1417]
/sociallocker]
File Size: 6.1 MB. Pages: 381. Download Instructions. Please read Disclaimer.
You may also like to free download Biochemistry (4th edition) authored by Christopher K. Mathews, K. E. Van Holde, Dean R. Appling and Spencer J. Anthony-Cahill in pdf.
Free download hundreds of well-known chemistry books in pdf from HERE.
P.S: If the download link(s) is/are not working, kindly drop a comment below, so we'll update the download link for you.
Happy downloading!