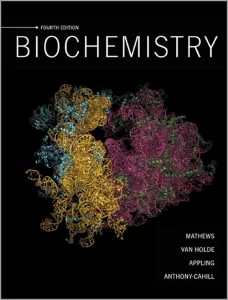 Free download Biochemistry (4th edition) authored by Christopher K. Mathews, K. E. Van Holde, Dean R. Appling and Spencer J. Anthony-Cahill in pdf.
In addition to dealing with the vast amount of new information appearing since the publication of the third edition in 2000, this new edition introduces three significant changes. First is more emphasis upon biochemical reaction mechanisms in the enzymes and metabolism chapters. Second is a significant reorganization in the chapters dealing with intermediary metabolism.
The coverage of carbohydrate metabolism has been unified, so that we now present glycolysis, gluconeogenesis, glycogen metabolism, and the pentose phosphate pathway in one chapter (Chapter 13). To accomplish this without excessive expansion of the chapter, we moved the section on complex carbohydrate metabolism to Chapter 9; instructors can present this material as part of the metabolism section of the course, if they prefer.
Redox thermodynamics has been moved from Chapter 15 (Biological Oxidations) to Chapter 3 (Bioenergetics), where it more properly belongs. The material on interorgan coordination in mammalian metabolism has been split into two chapters—Chapter 18 (Interorgan and Intracellular Coordination of Energy Metabolism in Vertebrates) and Chapter 23 (Signal Transduction).
The third major change is the reorganization of genetic biochemistry in the last major section of the book. As in previous editions, we introduce processes in biological information transfer early, in Chapter 4, with details presented later. In addition, we have integrated prokaryotic and eukaryotic informational metabolism, rather than presenting them in separate chapters, as in previous editions.
The four genetic biochemistry chapters in previous editions are now six—Chapters 24 (Genome Organization), 25 (DNA Replication), 26 (Information Restructuring), 27 (Transcription and Its Control), 28 (Protein Synthesis and Processing), and 29 (Control of Gene Expression).
Con

tents

Part 1: The Realm of Biochemistry
The Scope of Biochemistry
The Matrix of Life: Weak Interactions in an Aqueous Environment
The Energetics of Life
Part 2: Molecular Architecture of Living Matter
Nucleic Acids
Introduction to Proteins: The Primary Level of Protein Structure
The Three-Dimensional Structure of Proteins
Protein Function and Evolution
Contractile Proteins and Molecular Motors
Carbohydrates: Sugars, Saccharides, Glycans
Lipids, Membranes, and Cellular Transport
Part 3: Dynamics of Life: Catalysis and Control of Biochemical Reactions
Enzymes: Biological Catalysts
Chemical Logic of Metabolism
Part 4: Dynamics of Life: Energy, Biosynthesis, and Utilization of Precursors
Carbohydrate Metabolism: Glycolysis, Gluconeogenesis, Glycogen Metabolism, and the Pentose Phosphate Pathway
Citric Acid Cycle and Glyoxylate Cycle
Electron Transport, Oxidative Phosphorylation, and Oxygen Metabolism
Photosynthesis
Lipid Metabolism I: Fatty Acids, Triacylglycerols, and Lipoproteins
Interorgan and Intracellular Coordination of Energy Metabolism in Vertebrates
Lipid Metabolism II: Membrane Lipids, Steroids, Isoprenoids, and Eicosanoids
Metabolism of Nitrogenous Compounds I: Principles of Biosynthesis, Utilization, and Turnover
Metabolism of Nitrogenous Compounds II: Amino Acids, Porphyrins, and
Neurotransmitters
Nucleotide Metabolism
Mechanisms of Signal Transduction
Part 5: Information
Genes, Genomes, and Chromosomes
DNA Replication
DNA Restructuring: Repair, Recombination, Rearrangement, Amplification
Information Readout: Transcription and Post-transcriptional Processing
Information Decoding: Translation and Post-translational Protein Processing
Regulation of Gene Expression
Free download Biochemistry (4th edition) authored by Christopher K. Mathews, K. E. Van Holde, Dean R. Appling and Spencer J. Anthony-Cahill in pdf from following download links.
Follow these instructions to unlock the download links. Sometimes download link(s) is/are not visible on mobile devices, so if you face this issue, kindly do visit this page via laptop/desktop computer.
Password for Download Links: chemistry.com.pk
File Size: 71.1 MB. Pages: 1377. Download Instructions. Please read Disclaimer.
You may also like to free download
Free Download Hundreds of Best-Selling Chemistry Books from HERE.
P.S: If the download link(s) is/are not working, kindly drop a comment below, so we'll update the download link for you.
Happy downloading!