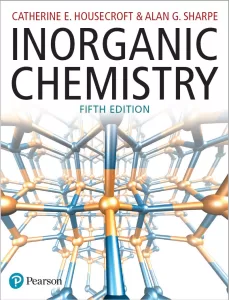 Free download Inorganic Chemistry (5th edition) authored by Catherine E. Housecroft & Alan G. Sharpe in pdf.
Inorganic Chemistry is a popular, internationally acknowledged textbook which gives a robust foundation for undergraduate and graduate students in physical inorganic principles, descriptive inorganic chemistry, bioinorganic chemistry and applications of the subject in catalysis, industrial processes and materials.
Capturing the imagination and interest of students can be challenging, and Inorganic Chemistry addresses this challenge by the use of well-illustrated boxed material linking elements and inorganic compounds to the environment, biology, medicine and industry.
The continuing success of Inorganic Chemistry is due in part to the extensive use of worked examples, self-study exercises and end-of-chapter problems which help students grasp basic principles as well as apply principles and methods to problems, many of which use literature data.
Twenty years ago, when I started working with Alan Sharpe on the first edition of Inorganic Chemistry, it was possible to manually trawl the high-impact journals to uncover major advances in the field, and to select material for inclusion in the textbook.
In 2017, this is a daunting task, and it has become impossible to incorporate all significant developments without the textbook growing in size beyond practical limits. I have therefore had to apply rather stringent (and, probably, personal) criteria in selecting new compounds and topics to include in the 5th edition of Inorganic Chemistry.
Con

tents
Basic concepts: molecules
Introduction to molecular symmetry
Experimental techniques
Bonding in polyatomic molecules
Structures and energetics of metallic and ionic solids
Reduction and oxidation
Non-aqueous media
Hydrogen
Group 1: the alkali metals
The group 2 metals
The group 13 elements
The group 14 elements
The group 15 elements
The group 16 elements
The group 17 elements
The group 18 elements
d-Block metal chemistry: general considerations
d-Block metal chemistry: coordination complexes
d-Block metal chemistry: the first row metals
d-Block metal chemistry: the heavier metals
Organometallic compounds of s- and p-block elements
Organometallic compounds of d-block elements
Catalysis and some industrial processes
d-Block metal complexes: reaction mechanisms
The f-block metals: lanthanoids and actinoids
Inorganic materials and nanotechnology
The trace metals of life
Free download Inorganic Chemistry (5th edition) authored by Catherine E. Housecroft & Alan G. Sharpe in pdf from following download links.
Follow these instructions to unlock the download links. Sometimes download link(s) is/are not visible on mobile devices, so if you face this issue, kindly do visit this page via laptop/desktop computer.
Password for Download Links: chemistry.com.pk
File Size: 110.7 MB. Pages: 1297. Download Instructions. Please read Disclaimer.
You may also like to free download:
Free Download Hundreds of Best-Selling Chemistry Books from HERE.
P.S: If the download link(s) is/are not working, kindly drop a comment below, so we'll update the download link for you.
Happy downloading!