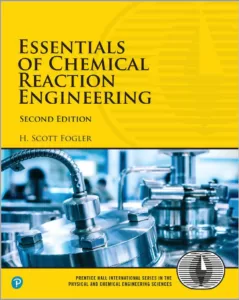 Free download Essentials of Chemical Reaction Engineering (2nd edition) authored by H. Scott Fogler in pdf.
This book is intended for use as both an undergraduate-level and a graduate-level text in chemical reaction engineering. The level will depend on the choice of chapters, the Professional Reference Shelf (PRS) material to be covered, and the type and degree of difficulty of problems assigned.
It was written with today's students in mind. It provides instantaneous access to information; does not waste time on extraneous details; cuts right to the point; uses more bullets to make information easier to access; and includes new, novel problems on chemical reaction engineering (e.g., solar energy). It gives more emphasis to chemical reactor safety (Chapters 12 and 13) and alternative energy sources—solar (Chapters 3, 8, and 10) and biofuel production (Chapter 9).
The second goal of this book is to help the reader clearly understand the fundamentals of CRE. This goal is achieved by presenting a structure that allows the reader to solve reaction engineering problems through reasoning rather than through memorization and recall of numerous equations and the restrictions and conditions under which each equation applies.
The algorithms presented in the text for reactor design provide this framework, and the homework problems give the reader practice using the algorithms described in Figures P-1 and P-2, shown in Preface Section C. The conventional homework problems at the end of each chapter are designed to reinforce the principles in the chapter.
These problems are about equally divided between those that can be solved with a calculator and those that require a personal computer with a numerical software package, such as Polymath, Wolfram, MATLAB, AspenTech, or COMSOL.
Con

tents
Mole Balances
Conversion And Reactor Sizing
Rate Laws
Stoichiometry
Isothermal Reactor Design: Conversion
Isothermal Reactor Design: Moles and Molar Flow Rates
Collection and Analysis of Rate Data
Multiple Reactions
Catalysis and Catalytic Reactors
Non-Isothermal Reactor Design–The SteadyState Energy Balance and Adiabatic Pfr Applications
Steady-State Nonisothermal Reactor Design—Flow Reactors with Heat Exchange
Unsteady-State Nonisothermal Reactor Design
Free download Essentials of Chemical Reaction Engineering (2nd edition) authored by H. Scott Fogler in pdf from following download links.
Kindly follow the instructions to unlock the download link(s). Sometime download link(s) is/are not visible on mobile devices, so if you face this issue, kindly do visit this page via laptop/desktop computer.
Password for Download Links: chemistry.com.pk
File Size: 13.3 MB. Pages: 810. Download Instructions. Please read Disclaimer.
You may also like to free download
Free download hundreds of Best-Selling Chemistry Books from HERE.
P.S: If the download link(s) is/are not working, kindly drop a comment below, so we'll update the download link for you.
Happy downloading!