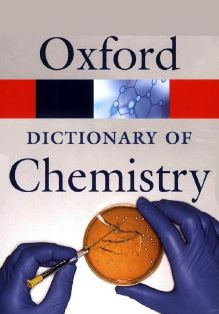 Oxford Chemistry Dictionary (sixth edition) is edited by John Daintith and published by Oxford University Press in 2008. This dictionary was originally derived from the Concise Science Dictionary, first published by Oxford University Press in 1984 (fifth edition, retitled Dictionary of Science, 2005).
It consisted of all the entries relating to chemistry in this dictionary, including physical chemistry, as well as many of the terms used in biochemistry. Subsequent editions included special feature articles on important topics as well as several chronologies tracing the history of some topics and short biographical entries on the chemists and other scientists who have been responsible for the development of the subject. For this sixth edition the text has been fully revised, and some entries have been substantially expanded. In addition, over 350 new entries have been added covering all branches of the subject. The coverage of certain fields, in particular biochemistry, forensic chemistry, and chemoinformatics, has been expanded. A further improvement has been the inclusion of about 90 additional chemical structures.
Free download Oxford Dictionary of Chemistry in pdf from following download link.
Password for Download Link: chemistry.com.pk
File Size: 3.36 MB, Pages: 576. Download Instructions. Kindly read Disclaimer.
You may also like to free download:
Free Download Hundreds of Best-Selling Chemistry Books from HERE.
P.S: If the download link(s) is/are not working, kindly drop a comment below, so we'll update the download link for you.
Happy downloading!