Department of Bioinformatics & Biotechnology and Office of Research, Innovation & Commercialization (ORIC), Government College University Faisalabad are jointly organizing a 5-day training course entitled "1st National Training Course on Molecular Methods in Biotechnology" during December 8-12, 2014 at Government College University Faisalabad, Pakistan.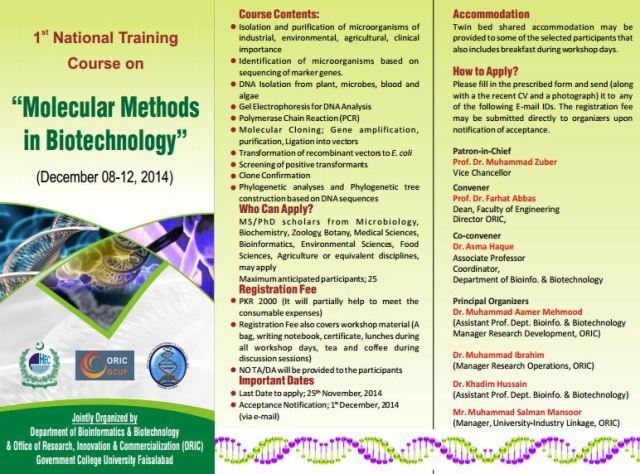 Course

Outline
Isolation and purification of microorganisms of industrial, environmental, agricultural, clinical importance
Identification of microorganisms based on sequencing of marker genes.
DNA Isolation from plant, microbes, blood and algae
Gel Electrophoresis for DNA Analysis
Polymerase Chain Reaction (PCR)
Molecular Cloning; Gene amplification, purification, Ligation into vectors
Transformation of recombinant vectors to E. coli
Screening of positive transformants
Clone Confirmation
Phylogenetic analyses and Phylogenetic tree construction based on DNA sequences
Regis

tration

MS/PhD scholars from Microbiology, Biochemistry, Zoology, Botany, Medical Sciences, Bioinformatics, Environmental Sciences, Food Sciences, Agriculture or equivalent disciplines, may apply. Maximum anticipated participants: 25
Registration

Fee
PKR 2000
Registration Fee also covers workshop material (A bag, writing notebook, certificate, lunches during all workshop days, tea and coffee during discussion sessions)
NO TA/DA will be provided to the participants
Registration Deadline: November 25, 2014 (Acceptance Notification; 1 December, 2014 – via e-mail)
For further information kindly Click Here.
Event Title: 1st National Training Course on Molecular Methods in Biotechnology

Event Date: December 8-12, 2014

Event Venue: Department of Bioinformatics & Biotechnology, Government College (GC) University, Allama Iqbal Road, Faisalabad, Pakistan
For

Correspondence

Dr. Muhammad Ibrahim
Cell: 0092-322 6037045
Email: [email protected]

Dr. Muhammad Aamer Mehmood
Cell: 0092-300-9662288
Email: [email protected]

and

Dr. Khadim Hussain
Cell: 0092-0300-5368923
Email: [email protected]

Webpage: http://gcuf.edu.pk/1st-national-training-course-on-molecular-methods-in-biotechnology/