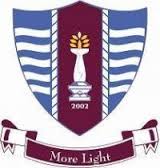 Government College (GC) University Faisalabad is a located in Faisalabad, Pakistan. GC University started as a Primary School back in 1897. This school was promoted to High School and Intermediate College in 1905 and in 1924 respectively. In 2002 it was granted a status of university. GC University is charted by Gov't of Punjab and recognized by Higher Education Commission of Pakistan (HEC).
Department of Chemistry GC University Faisalabad is one of old and big department of the university. Department equipped with state of art research and students laboratories. Research areas of departments are Nanoscience, Biosensors, Synthesis of Natural Products, Polymer Sciences, and Drugs and Bioassays etc.
Department of chemistry, GC University Faisalabad offers undergraduate and graduate programs.
Degree Programs Offered
BS (4 years)
M.Sc (2 years)
M.Phil (minimum 2 years)
Ph.D (minimum 3 years)
CONTACT DETAILS

Postal Address: Department of Chemistry, Government College (GC) University Faisalabad, Allama Iqbal Road, Faisalabad, Pakistan

Phone: 0092-41-9201032 Extension: 261