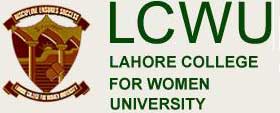 Lahore College for Women University (LCWU) is a public sector university. LCWU is chartered by Government of the Punjab and recognized by Higher Education Commission of Pakistan. LCWU started its journey as an intermediate college back in 1922. Now LCWU offer admission in Intermediate, Undergraduate, Graduate, Postgraduate and Ph.D. Only female candidates can get admission in Lahore College for Women University.
Department of Chemistry LCWU was established in 1922; one of old and well-established department of the university. Chemistry department offer undergraduate, graduate, postgraduate and doctoral programs. Only female candidates are eligible to get admission.
Academic Programs
Bachelor of Science (BS – 4 years)
Master of Science (M.Sc – 2 years)
Master of Philosophy (M.Phil – minimum 2 years)
Doctor of Philosophy (Ph.D – minimum 3 years)
All above mentioned programs are offered in analytical chemistry, organic chemistry, inorganic chemistry, physical chemistry and biochemistry.
Contact Details

Postal Address: Department of Chemistry, Lahore College for Women University, Jail Road, Lahore, Pakistan

Phone: 0092-42-99203801 to 09 Extension: 246 &  282

Webpage: http://www.lcwu.edu.pk/faculties-institutes/faculty-natural-sciences/dept-of-chemistry.html