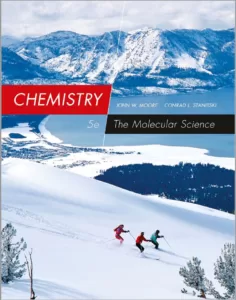 Free download Chemistry: The Molecular Science (5th edition) authored by John W. Moore and Conrad L. Stanitski in pdf.
Chemistry: The Molecular Science, Fifth Edition, is intended for mainstream general chemistry courses for students who expect to pursue further study in science, engineering, or science-related disciplines. Those planning to major in chemistry, biochemistry, biological sciences, engineering, geological sciences, environmental science, agricultural sciences, materials science, physics, and many related areas will benefit from this book and its approach.
The book has an extensive glossary and an excellent index, making it especially useful as a reference for study or review for standardized examinations, such as the MCAT.
This fifth edition of Chemistry: The Molecular Science has undergone major revisions—far more extensive than any of the previous editions, even though each of them was significantly revised.
Evaluated all chapter-end Questions for Review and Thought and in-chapter Problem-Solving Examples and Exercises with regard to conceptual level, using Bloom's taxonomy of educational objectives and aiming for comprehensive coverage of topics and strong development of students' conceptual abilities.
Con

tents
Chemical Compounds
Chemical Reactions
Energy and Chemical Reactions
Electron Configurations and the Periodic Table
Covalent Bonding
Molecular Structures
Properties of Gases
Fuels, Organic Chemicals, and Polymers
Chemical Kinetics: Rates of Reactions
Chemical Equilibrium
The Chemistry of Solutes and Solutions
Acids and Bases
Additional Aqueous Equilibria
Thermodynamics: Directionality of Chemical Reactions
Electrochemistry and Its Applications
Nuclear Chemistry
The Chemistry of the Main-Group Elements
Chemistry of Selected Transition Elements and Coordination Compounds
Free download Chemistry: The Molecular Science (5th edition) authored by John W. Moore and Conrad L. Stanitski in pdf from following download links.
Kindly follow the instructions to unlock the download link(s). Sometime download link(s) is/are not visible on mobile devices, so if you face this issue, kindly do visit this page via laptop/desktop computer.
Password for Download Links: chemistry.com.pk
File Size: 66.5 MB. Pages: 1272. Download Instructions. Please read Disclaimer.
You may also like to free download
Free download hundreds of Best-Selling Chemistry Books from HERE.
P.S: If the download link(s) is/are not working, kindly drop a comment below, so we'll update the download link for you.
Happy downloading!