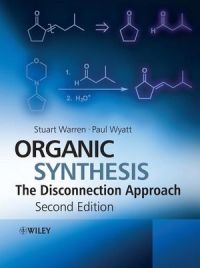 Free download Organic Synthesis: The Disconnection Approach (second edition) in pdf written by Stuart Warren (Chemistry Department, Cambridge University, UK) and Paul Wyatt (School of Chemistry, University of Bristol, UK) and published by Wiley and Sons Inc. in 2008.
Organic Synthesis: The Disconnection Approach, 2nd Edition introduces this important technique, to help students to design their own organic syntheses. There are forty chapters: those on the synthesis of given types of molecules alternate with strategy chapters in which the methods just learnt are placed in a wider context. The synthesis chapters cover many ways of making each type of molecule starting with simple aromatic and aliphatic compounds with one functional group and progressing to molecules with many functional groups. The strategy chapters cover questions of selectivity, protection, stereochemistry, and develop more advanced thinking via reagents specifically designed for difficult problems.
Table of Contents
Introduction: Planning Organic Syntheses
Synthons and Reagents: Aromatic Compounds
Strategy I: The Order of Events
One-Group C-X Disconnections
Chemoselectivity
Two-Group C-X Disconnections
Strategy III
Amine Synthesis
Protecting Groups
One Group C-C Disconnections I: Alcohols
General Strategy A: Choosing Disconnections
Stereoselectivity A
One Group C-C Disconnections II: Carbonyl Compounds
Regioselectivity
Alkene Synthesis
Strategy VII: Use of Acetylenes
Diels-Alder
Strategy VIII: Carbonyl Condensations
1,3-diCO Compounds.
Control in C=O Condensations
1,5-diCO Compounds
Nitro Groups
1,2-diCO Compounds
Radicals
1,4-diCO Compounds
Reconnection
1,6-diCO Compounds
Strategy of C=O Disconnections
Saturated Heterocycles
Cyclopropanes
Rearrangements
Four-Membered Rings
Ketenes
Five-Membered Rings
Pericyclic Reactions
Six-Membered Rings
Strategy of Ring Synthesis
Stereoselectivity B
Aromatic Heterocycles
Advanced Strategy
Free download Organic Synthesis The Disconnection Approach second edition written by Stuart Warren and Paul Wyatt in pdf from following external download link.
Kindly follow these instructions to unlock the download link(s). Sometime download link(s) is/are not visible on mobile devices, so if you face this issue, kindly do visit this page via laptop/desktop computer.
Password for Download Links: chemistry.com.pk
File Size: 7.38 MB, Pages: 340. Download Instructions. Kindly read Disclaimer.
You may also like to free download
Free Download Hundreds of Best-Selling Chemistry Books from HERE.
Happy downloading!