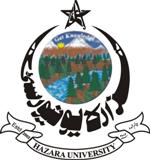 Hazara University (HU) is located in Mansehra District, Hazara, Khyber Pakhtunkhwa. Hazara University established in 2002. Hazara University is a public sector general research university, it is chartered by Government of Khyber Pakhtunkhwa and recognized by Higher Education Commission of Pakistan. HU has two campuses.
Garden Campus Mansehra
Havelian Campus, Havelian
Department of Chemistry of Hazara University offers admission in undergraduate, graduate, postgraduate and doctorate academic programs in the field of chemistry. The department is located at Garden Campus Mansehra of the university.
Academic

Programs
Bachelor of Science (BS – 4 years)
Master of Science (M.Sc – 2 years)
Master of Philosophy (M.Phil – 2 years)
Doctor of Philosophy (Ph.D – 3 years)
Contact

Details

Postal Address: Department of Chemistry, Hazara University, Karakoram Highway, Dhodial, Mansehra District, Khyber Pakhtunkhwa, Pakistan

Phone: 0092-997-530078 and 0092-997-414136

Fax: 0092-997-414111

Webpages: http://www.hu.edu.pk/ and for admission details click here