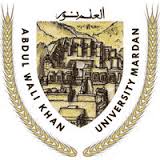 The Abdul Wali Khan University Mardan (AWKUM) is a public sector general university, established in 2009 in Mardan. This university is chartered by Government of Khyber PakhtunKhwa and recognized by Higher Education Commission of Pakistan. The University has following ten campuses in different cities of Khyber PakhtunKhwa province.
Main Campus (Mardan)
Garden Campus
Anbar Campus
Buner Campus
Chitral Campus
Pabbi Campus
Palosa Campus
Shankar Campus
Timergara Campus
University College for Women
Department of Chemistry, Abdul Wali Khan University is located in University College of Science Shankar, a campus of the university. The department offers admissions in undergraduate to doctorate academic programs with specialization in analytical, inorganic, organic and physical chemistry.
Academic Programs
Bachelor of Science (BS – 4 years)
Master of Science (M.Sc – 2 years)
Master of Philosophy (M.Phil – 2 years)
Doctor of Philosophy (Ph.D – 3 years)
Contact Details

Postal Address: Department of Chemistry, University College of Science, Abdul Wali Khan University, Shankar, Khyber PakhtunKhwa, Pakistan

Phone: 0092-937-542189

Email: [email protected]

Webpage: http://www.awkum.edu.pk/Departments/Chemistry/Chemistry.html