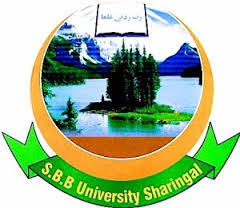 Shaheed Benazir Bhutto University (SBBU), Sheringal, Dir was established in 2009. SBBU is a public sector general university located in Sheringal Town, 35 km on the right of Dir City, Khyber Pakhtunkhwa. SBBU is chartered by Government of Khyber Pakhtunkhwa and recognized by Higher Education Commission of Pakistan. SBBU offers admission in undergraduate, graduate, postgraduate and doctorate academic programs.
C

ampuses
Sheringal, Dir Campus (Main Campus)
Sub Campus Chitral
Sub Campus Booni
Sub Campus Wari
Department of Chemistry, Shaheed Benazir Bhutto University, Sheringal, Dir was established in August 2013 and was initiated by the modification of Phytochemistry Laboratories of the Sheringal High Altitude Research Centre and Campus (SHARC). The department is located in main campus of the university. The department offers admissions in undergraduate to doctorate academic programs majoring in analytical, biochemistry, organic, and physical chemistry. Department of Chemistry, SBBU has many modern research equipments like UV-Visible photometer, flame photometer, rotary evaporator, HPLC, deionizer, sonicator, different type of pH meters, melting and boiling point checking apparatus, polarimeter and soxhlet apparatus etc. The department regularly organizes symposiums, lectures, seminars and conferences.
Academic

Programs
Bachelor of Science (BS – 4 years)
Master of Science (M.Sc – 2 years)
Master of Philosophy (M.Phil – 2 years)
Doctor of Philosophy (Ph.D – 3 years)
Contact

Details

Postal Address: Department of Chemistry, Shaheed Benazir Bhutto University, Sheringal, District Dir (upper), Khyber Pakhtunkhwa, Pakistan

Phone: 0092-944-885529

Fax: 0092-944-885529

Webpage: http://www.sbbu.edu.pk/departments/chemistry/index.php